PLEASE NOTE WE CANNOT ACCEPT APPLICATIONS IF YOU DO NOT HAVE GERMAN SHEPHERD OR LARGE BREED EXPERIENCE. WE ALSO CANNOT CONSIDER HOMES WITH YOUNG CHILDREN UNLESS THEY ARE USED TO LIVING WITH A LARGE BREED DOG.
PLEASE NOTE THAT IT IS RARE TO HAVE CAT FRIENDLY DOGS COME INTO RESCUE AND WHILST YOUR CAT MAY BE USED TO DOGS, THAT DOES NOT ENSURE THE CAT'S SAFETY, AND WE WILL NOT TAKE CHANCES. IT IS RARELY POSSIBLE TO ASSESS THE DOGS IN OUR CARE WITH CATS SO IT IS NOT STANDARD PRACTICE.
Hi everyone I'm Raymond the mascot for GSRE and here to help where I can. Just before you go ahead and fill in our adoption form just take a moment to double check you are ready to take on a lovely boy or girl like me.
Long walks, wet paws, loads and loads of hair, vet bills, toilet mishaps, chewed things that may not be mine, fingers crossed I will live for many years and will need constant love and care for the whole of this time, on the plus side I do give out unconditional love and sloppy wet kisses on a never ending basis.
If you are happy to partake in all the above for as long as I am with you then get typing and press send!!!
The Adoption Process
You will initially be contacted by one of our screeners who will then arrange a volunteer to carry out a home check after having obtained a reference from your vet.
If you live in rented premises, your application cannot be processed until the screener has sight of permission from your landlord to have a dog/s at the premises.
You will be asked to show photo ID by the volunteer carrying out your home check. This can be a driving license or passport.
Once the home check has been completed the report will be sent to a Coordinator who will contact you to discuss dogs.
No information can be given out on individual dogs before this time.
Initial contact may be by email so please ensure you check your email regularly including your spam folder.
If a meet is arranged with a dog still currently in their home, your home check will be sent to the volunteer who assessed the dog to arrange a meet.
You will be expected to travel to the location of the dog you wish to meet.
Adoption donations depend on the age of the dog and can range from £100 to £400. The adoption donation is not for purchase of the dog but for the care of current and future dogs that will come into our care. A donation is required as a means of assuring the adopter is able to cover the future upkeep costs of the dog and are adjusted depending on the dog's immediate needs when taken home such as a second vaccination or ongoing medical care. These are just advisory minimum amounts so of course the donation can be as high as you wish.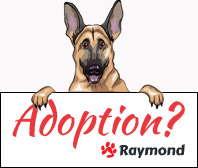 By completing the verification process you are giving German Shepherd Rescue Elite your consent to use your personal information as described in the adoption process at the top of this page and agree to our Privacy Policy.