Camelot Kennels – Home of GSRE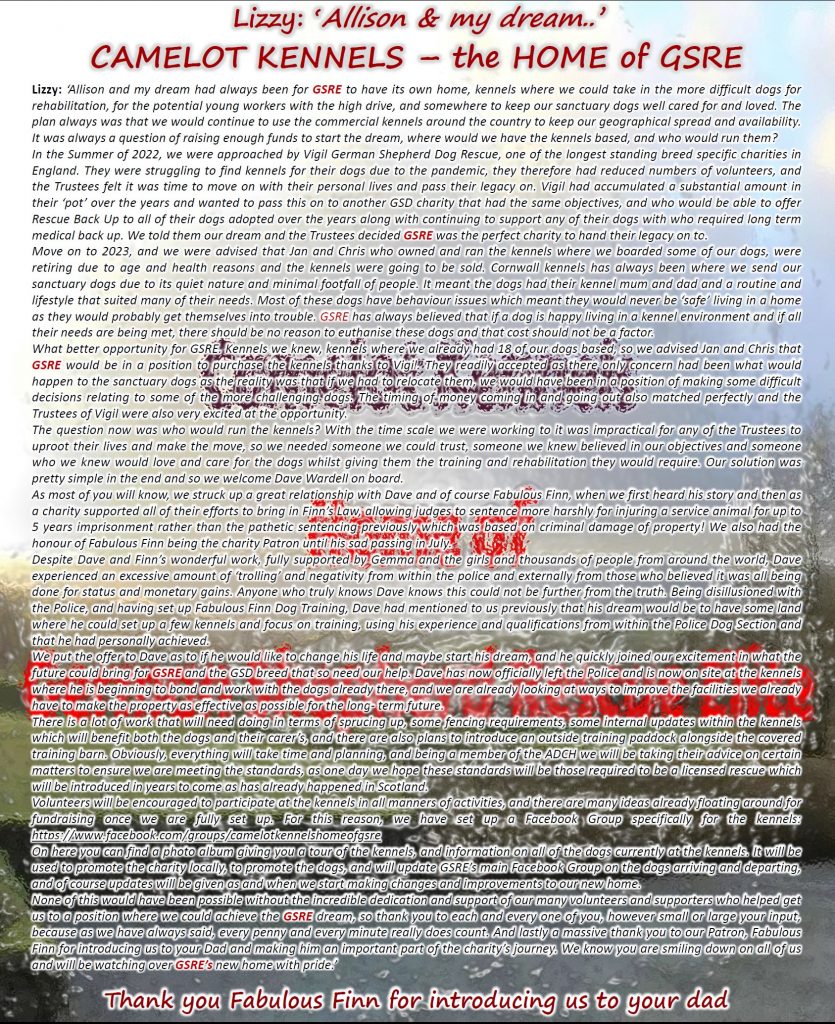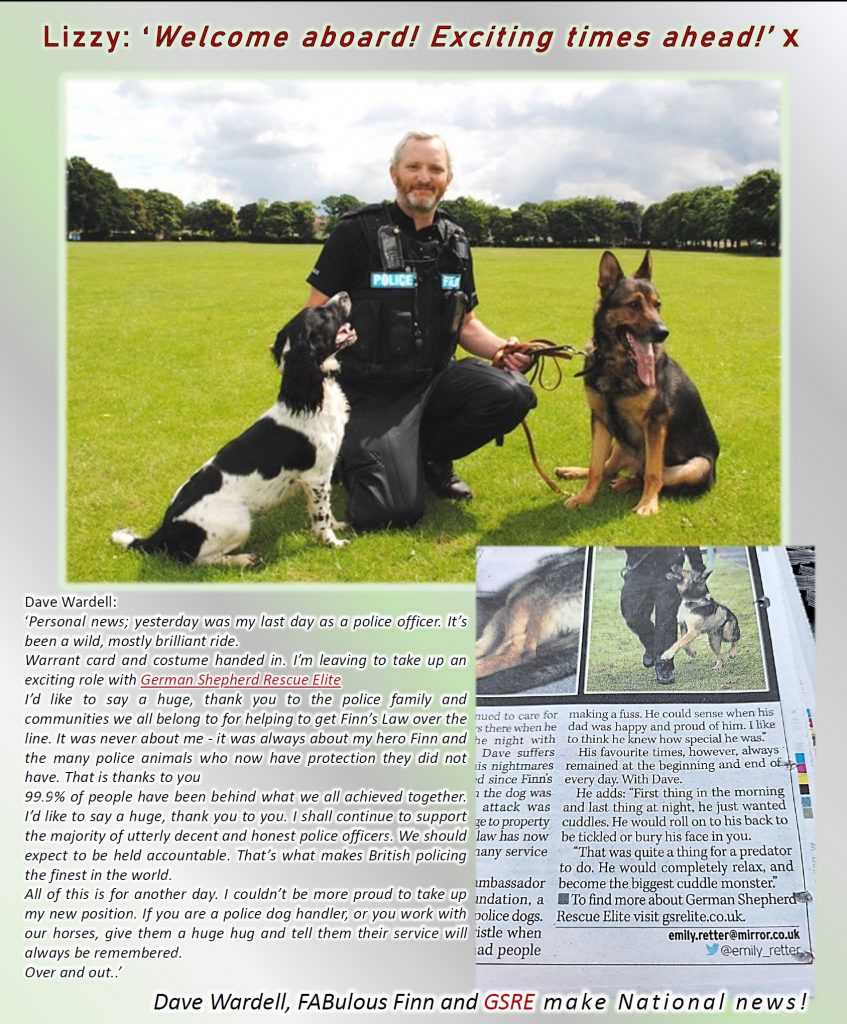 ---
Fabulous Finn: End Of An Era – July 2023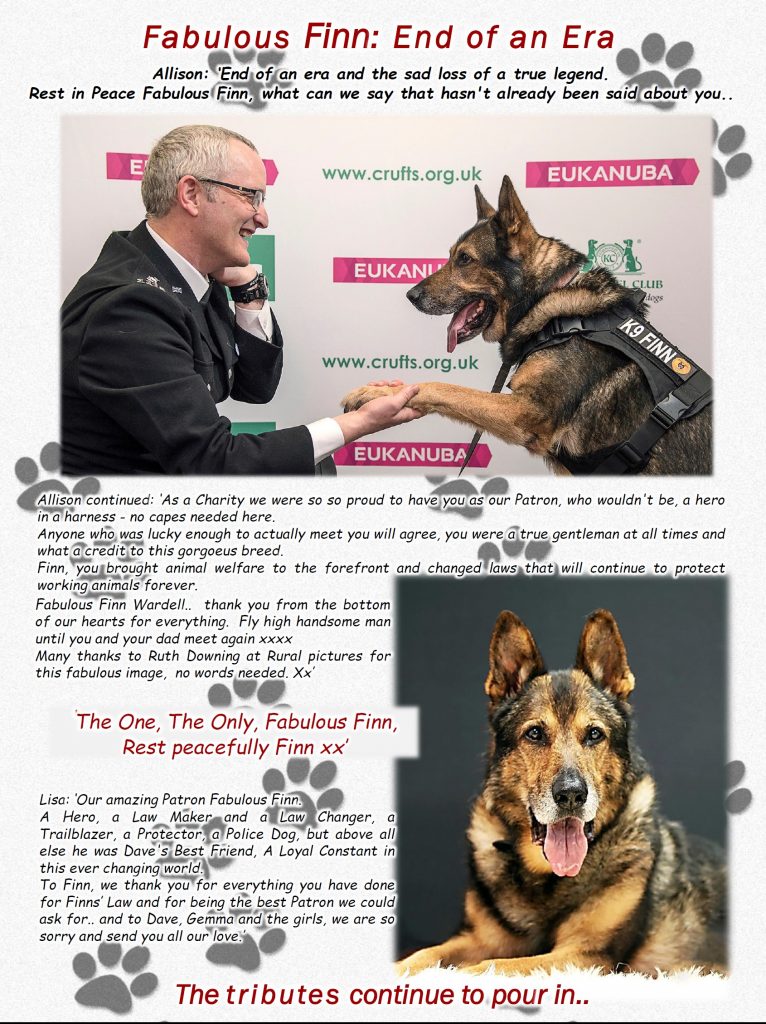 ---
Gracie Appeal – The Puppy With A Major Birth Defect – June 2023
---
Ben Nevis – The Awesome Threesome – May 2023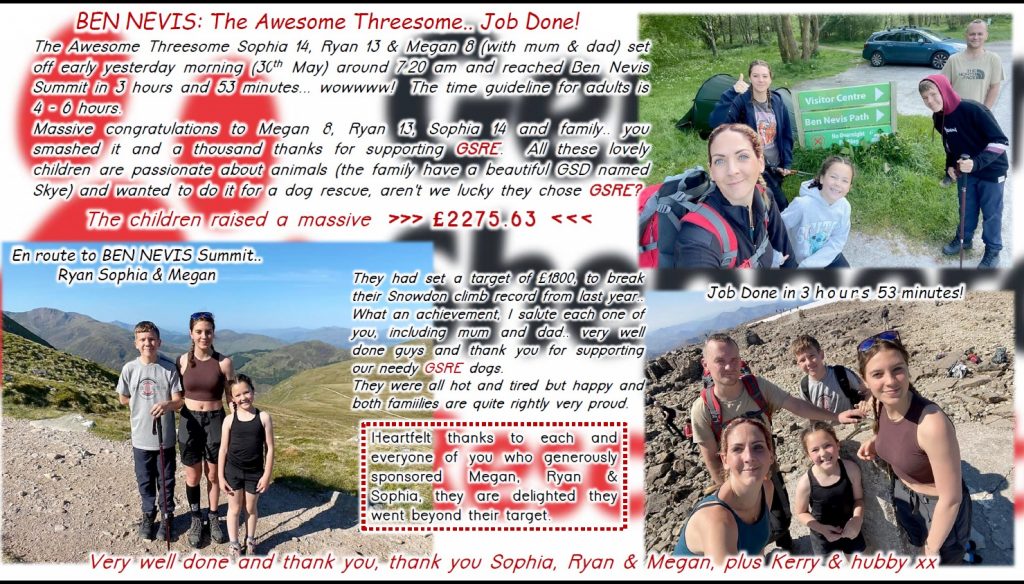 ---
Sam's Wingwalk – May 2023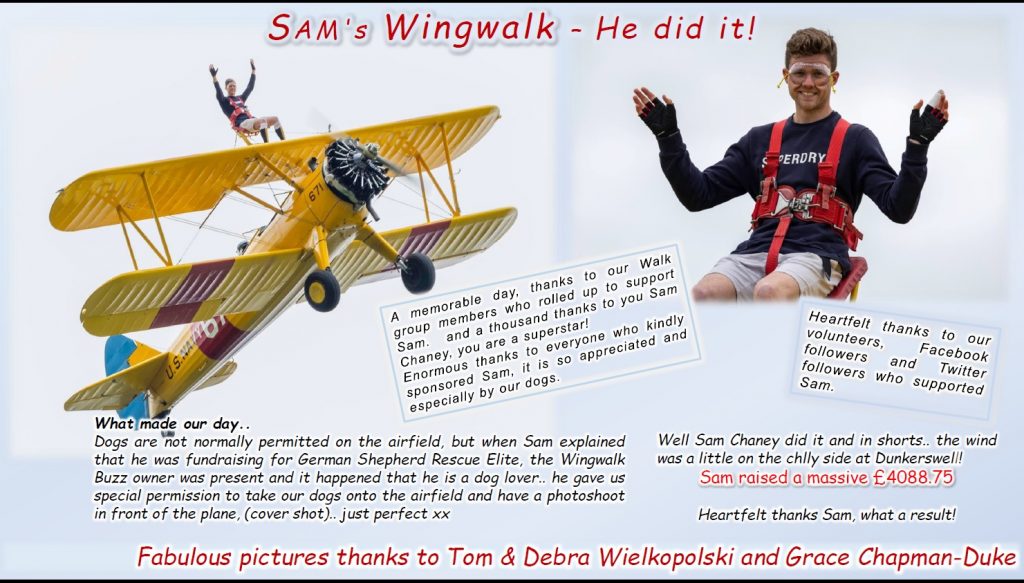 ---
Vigil Closes Its Doors After Nearly 30 Years But Continue Their Objectives Through GSRE! – April2023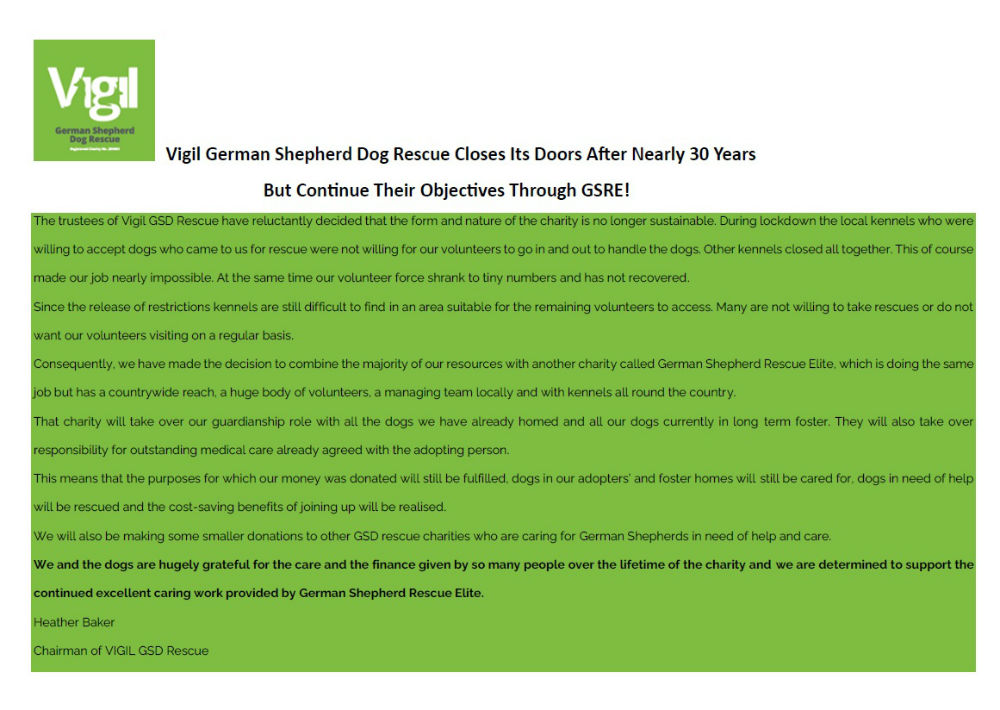 ---
Pearl's Story – February 2023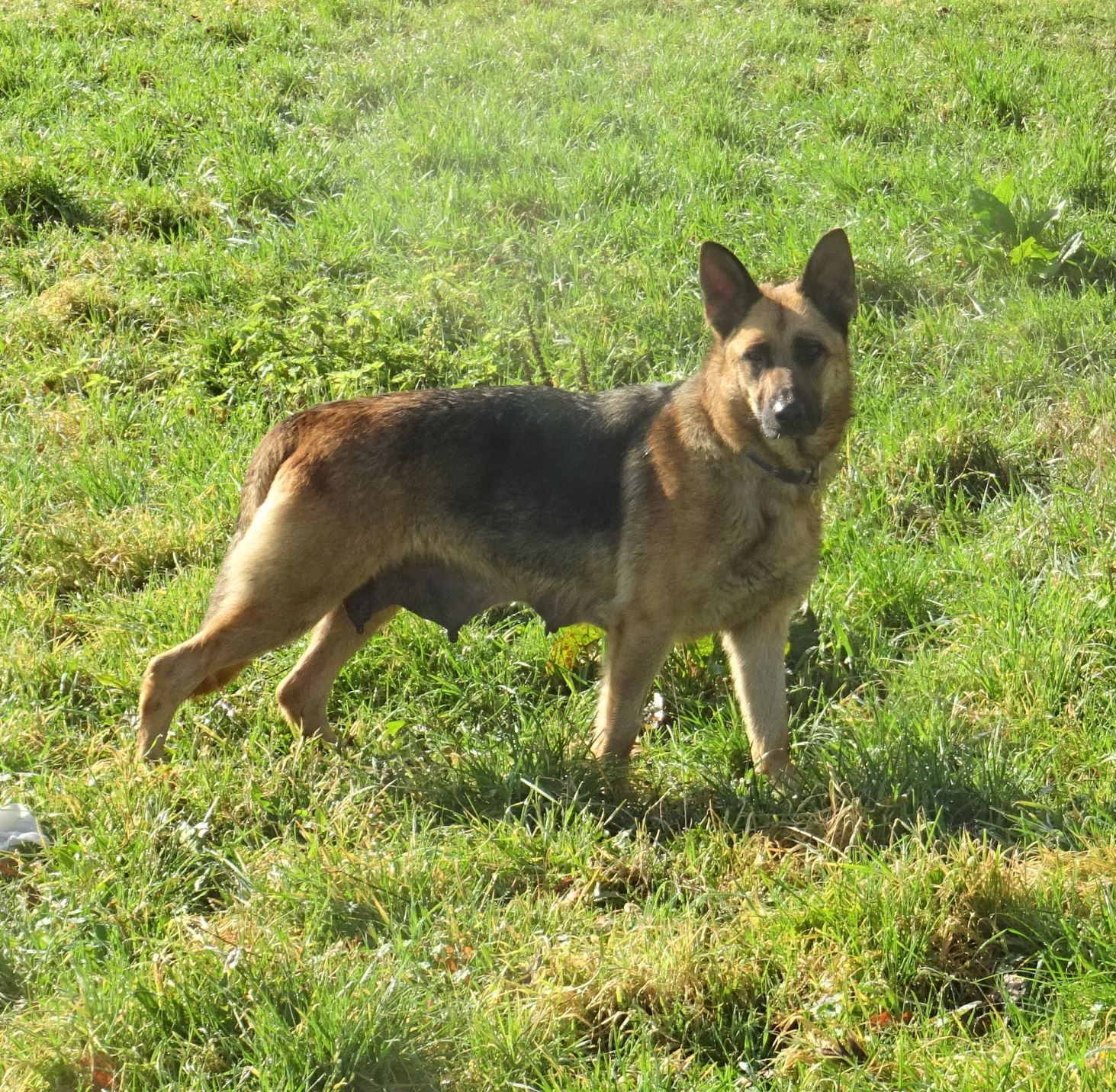 ---
GSRE Auction – February2023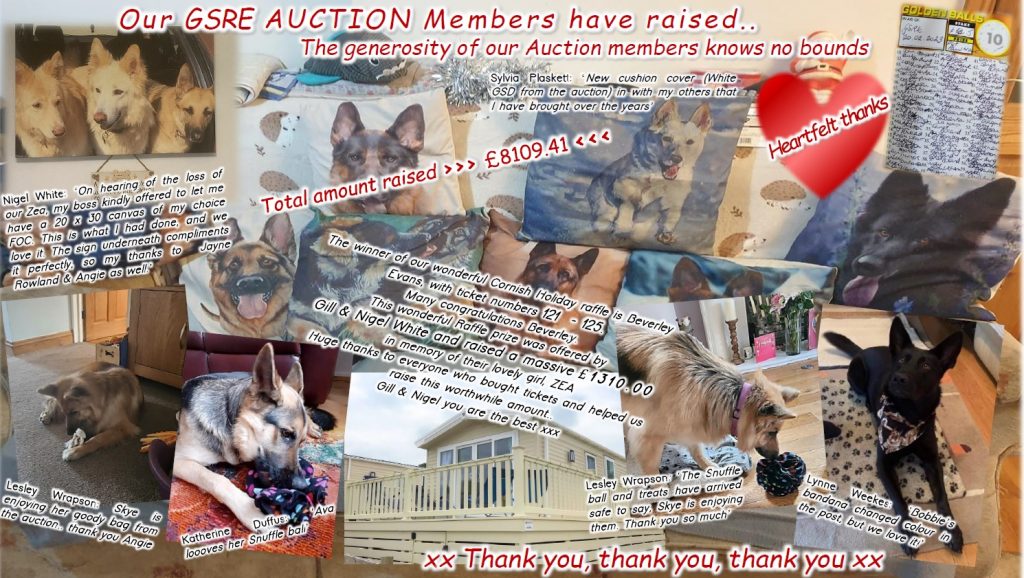 ---
GSRE Fundraising With The Northumberland Walk Group – January 2023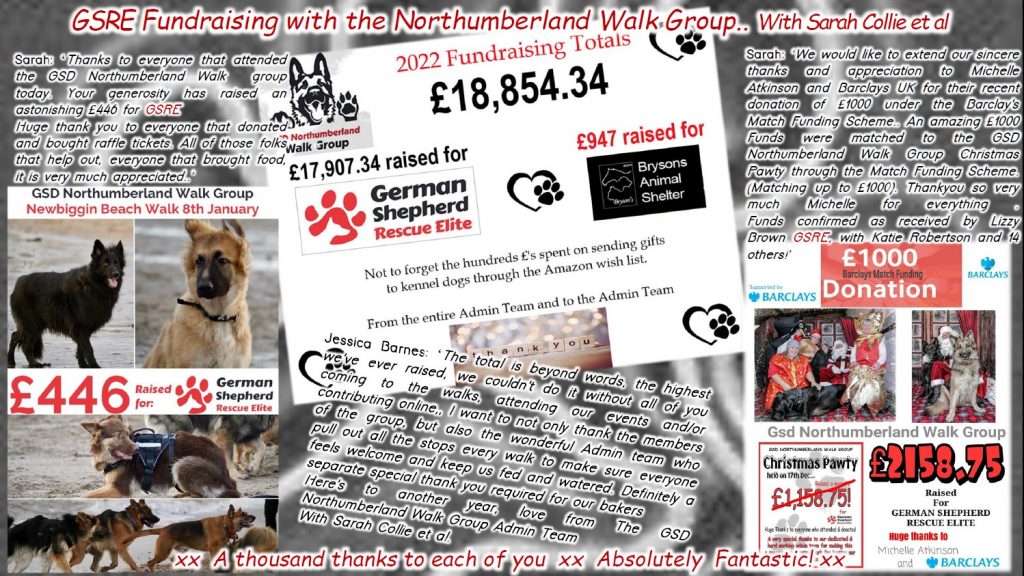 ---
Buy A Dog A Bone – GSRE Christmas Fundraiser – December 2022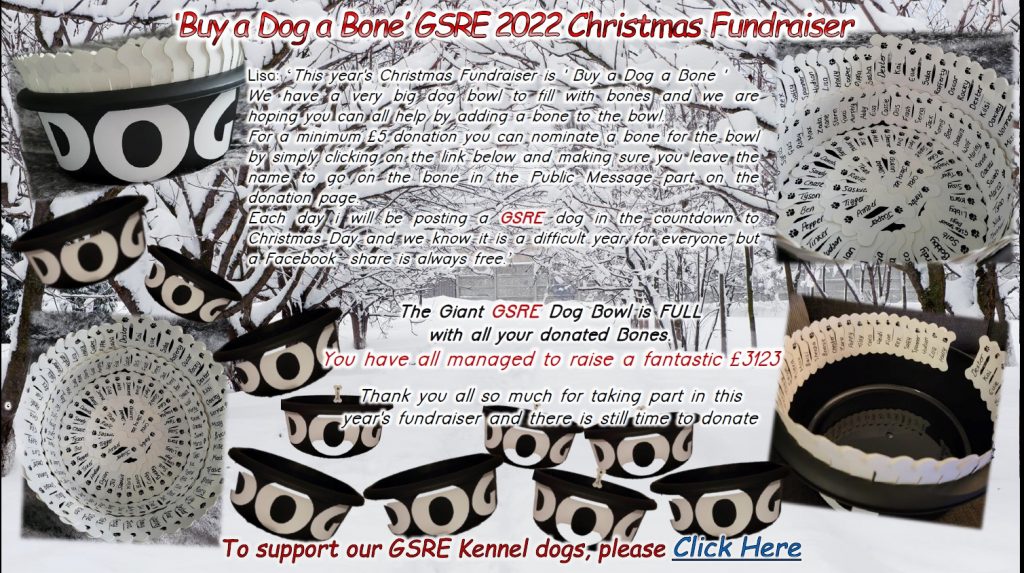 ---
Drum Roll Please – GSRE Are 10 Years Old Today!! – December 2022
---
Marley & Mates Walking In Memory Of Pippa – September 2022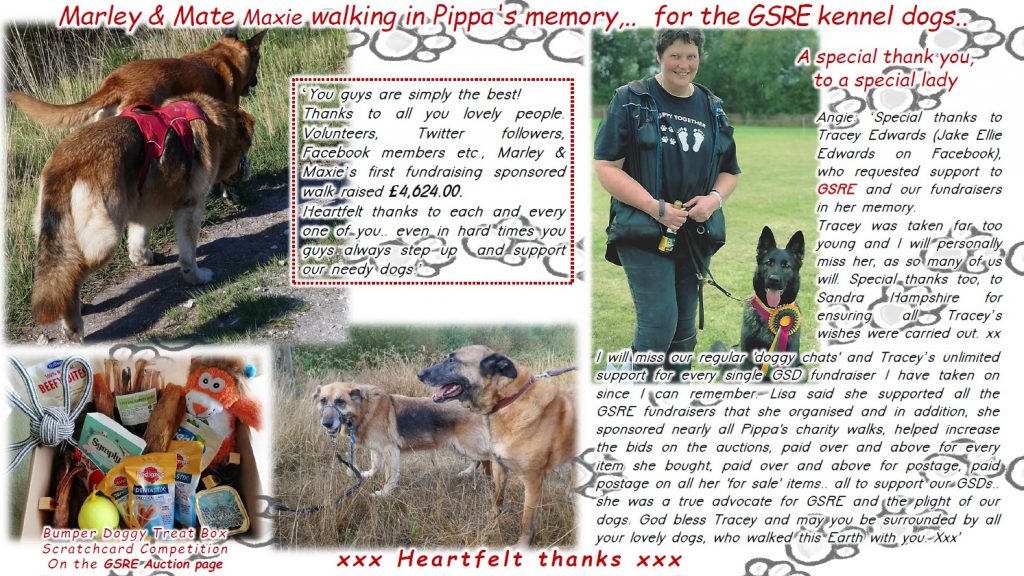 ---
May Fundraising – May 2022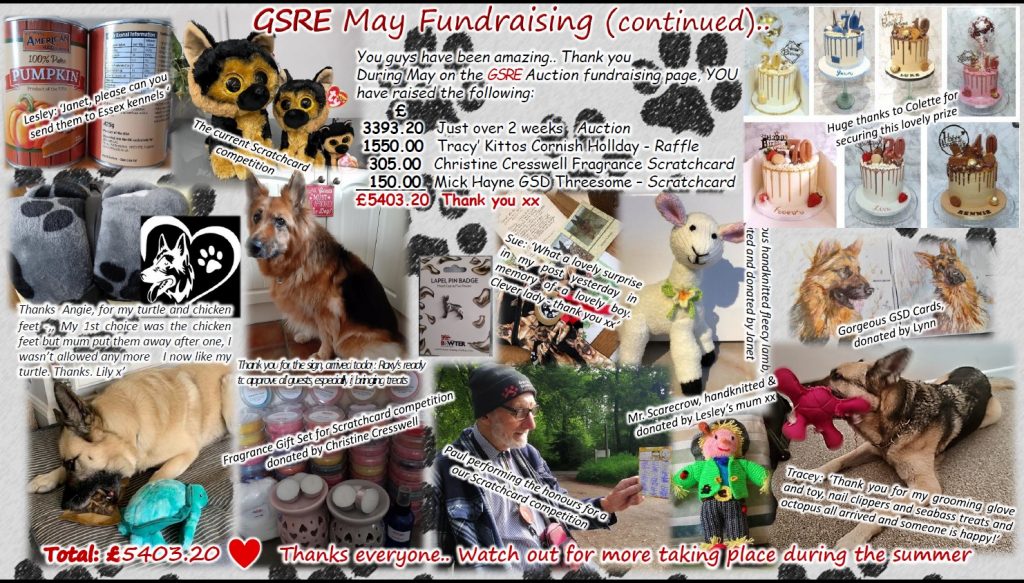 ---
Bear: The Girls Did  A Wonderful Job On Him – April 2022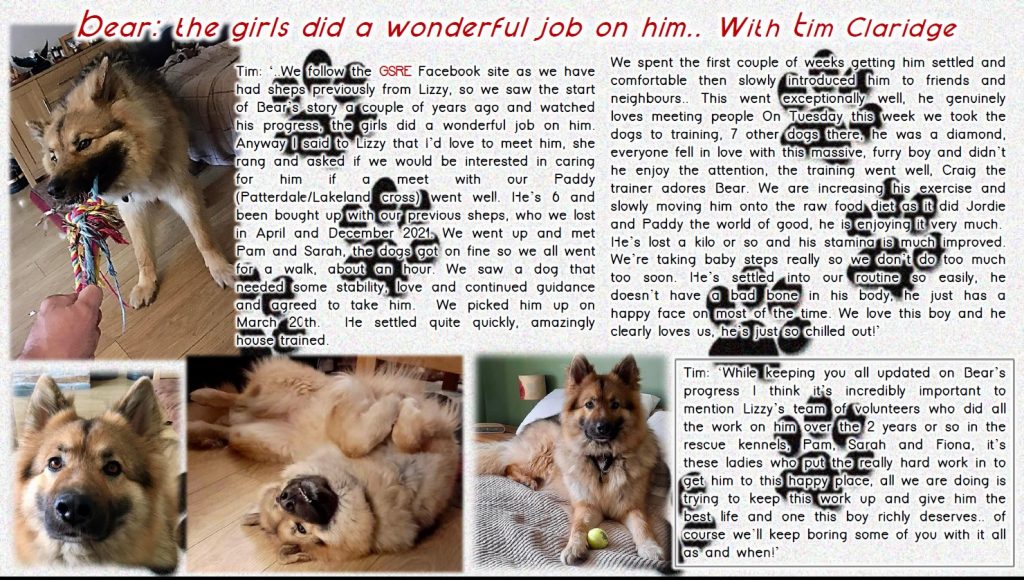 ---
GSD Northumberland Walk Group – March 2022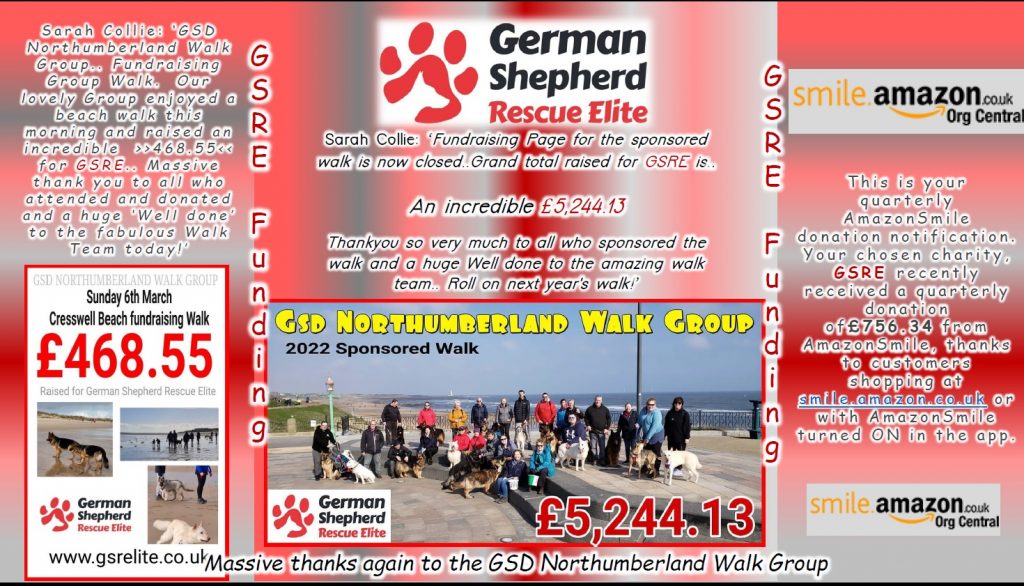 ---
Two Angels Crossed Rainbow Bridge This Week – February 2022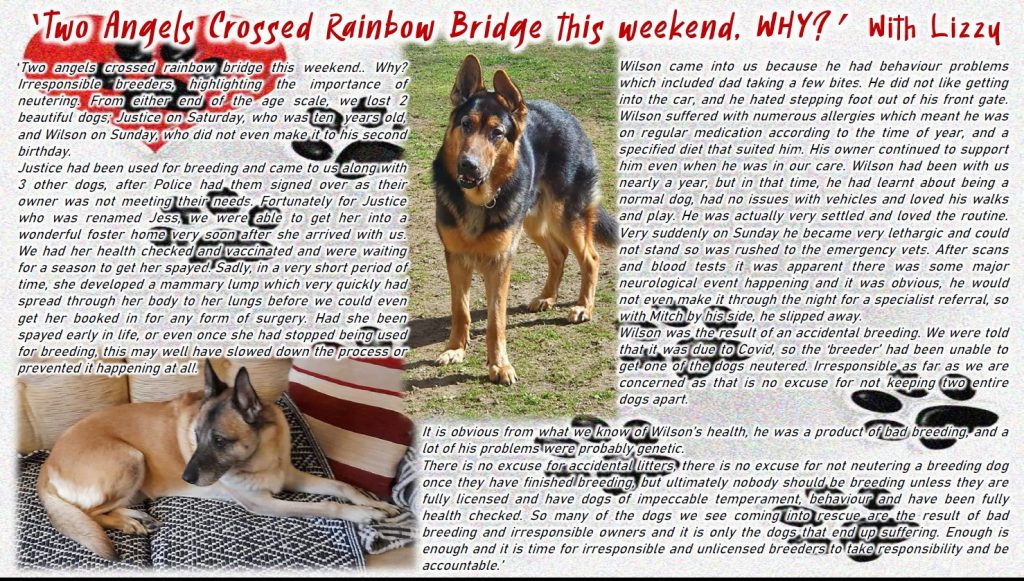 ---
Rescue Is Harder Than Ever – February 2022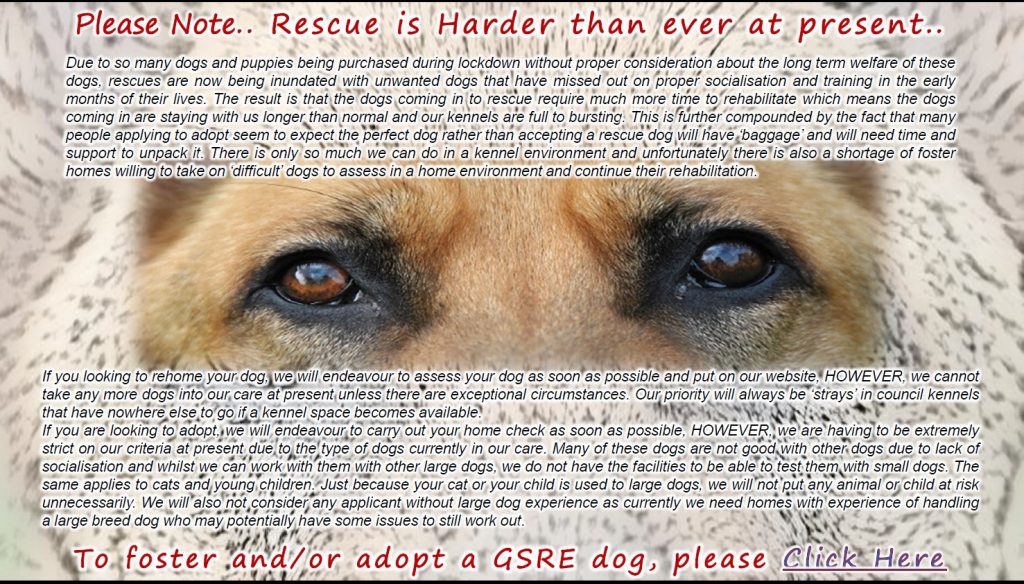 ---
Christmas Fundraiser – December 2021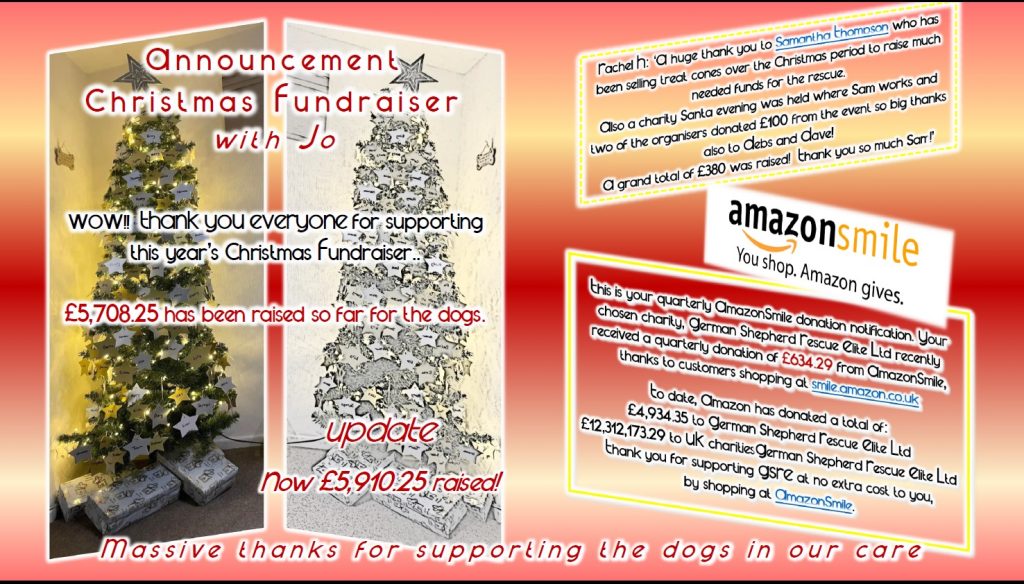 ---
Finns Law 5 Years On After Stabbing – October 2021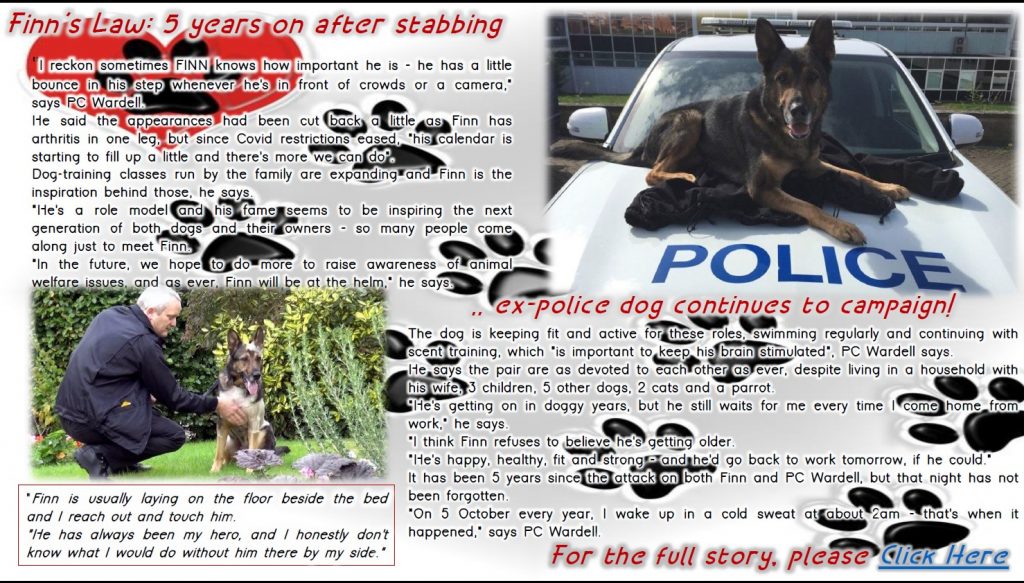 ---
Way To Go Patron Fabulous Finn – October 2021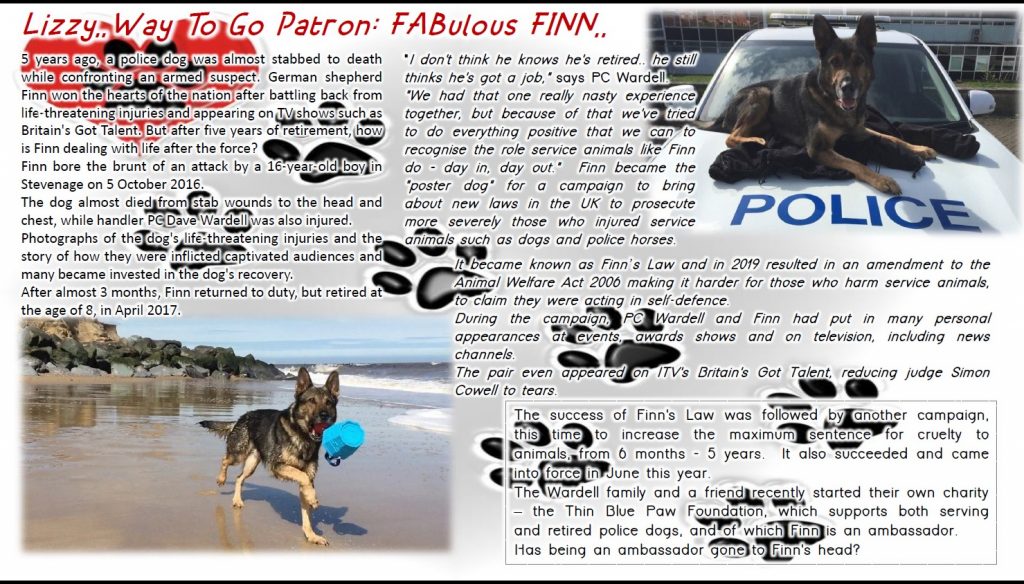 ---
Walking In Memory Of Pippa & The Little Mo's – September 2021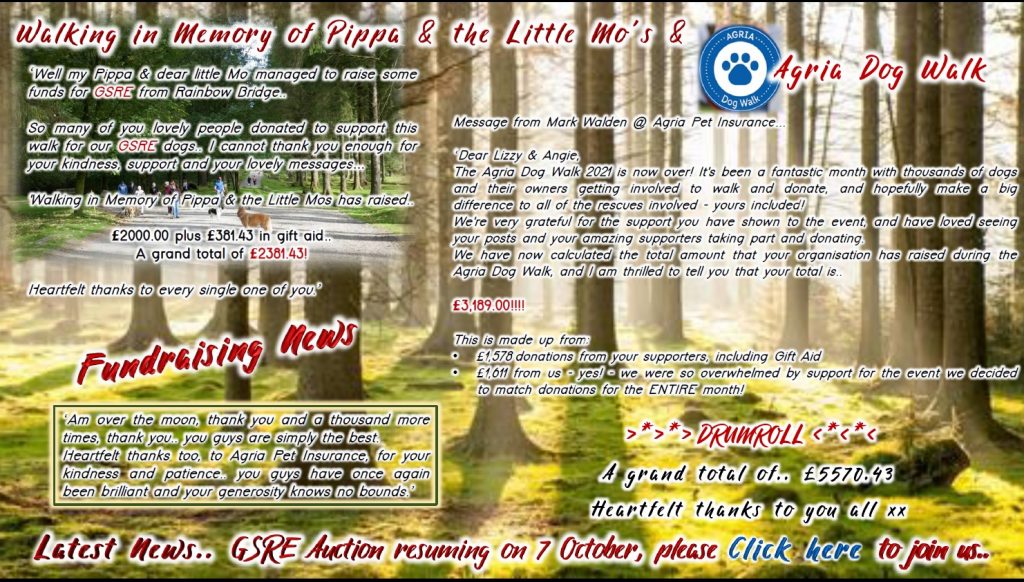 ---
Vida Finds Crucial Evidence – July 2021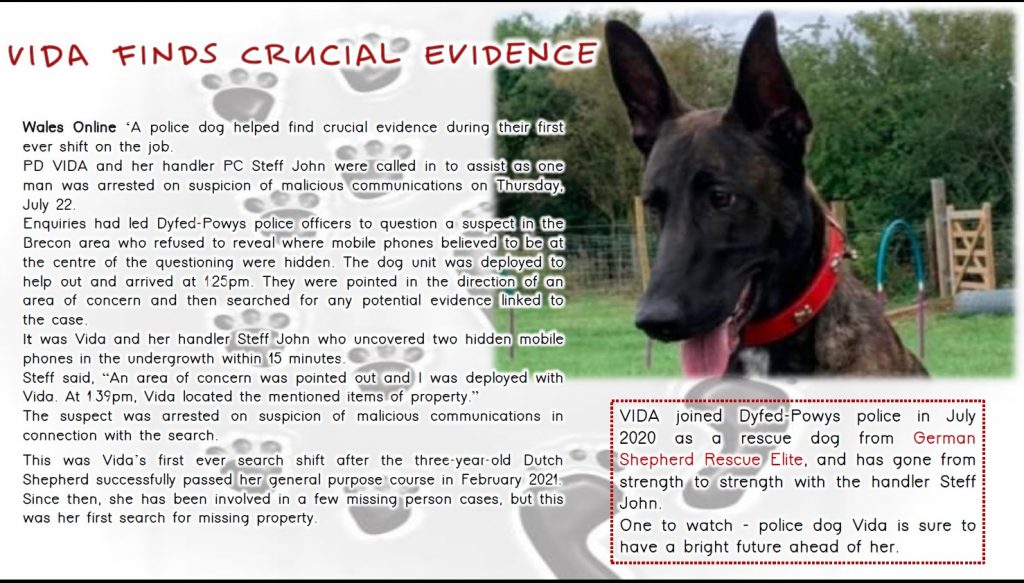 ---
Tuks Law Update – May 2021

---
Pippa's Amble For Aria – April 2021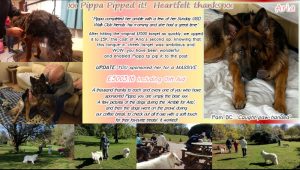 ---
Finn's Law Part 2 Is A Reality – April 2021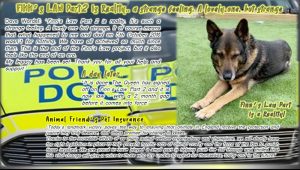 ---
Finn's Law Part 2 Has Passed The Committee Stage – March 2021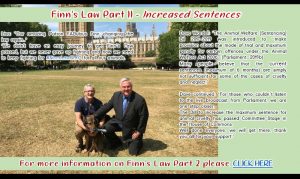 ---
Another Proud Moment – Lexi Has Licensed As A Prison Dog – March 2021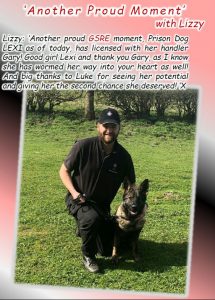 ---
Rekari Made The Sunday Mirror – April 2021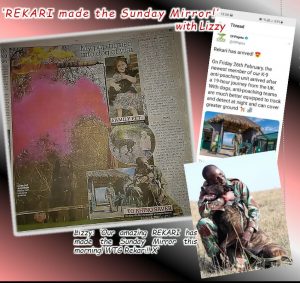 ---
GSRE Rekari Settling Into His New Life – February 2021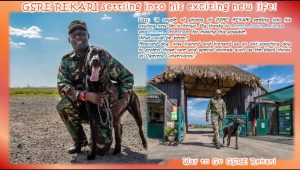 ---
GSRE Christmas Fundraiser – Baubles For The GSRE Christmas Tree – December 2020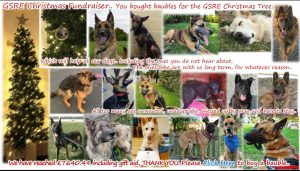 ---
Sittingbourne Rescue Pup Stars In Kennel Club Calendar – December 2020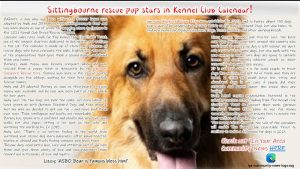 ---
12 Months Old – Owners Wanted Euthanised – December 2020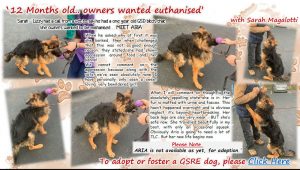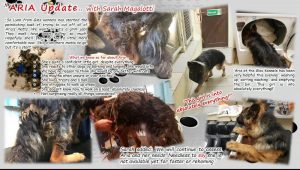 ---
Tuks's Law Gathers Momentum – October 2020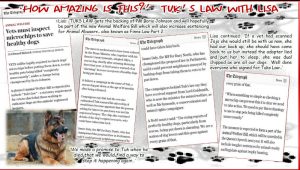 ---
The Ayes Have It – Finn's Law Part 2 Moves Onto Committee Stage – October 2020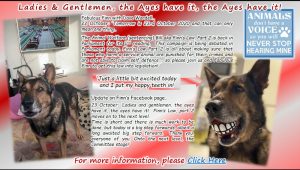 ---
GSRE Furry Jumpers – October 2020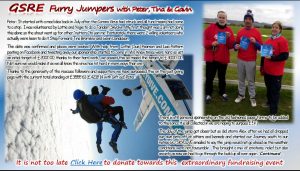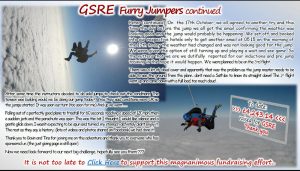 ---
Pippa Walked For The Arthurs – September 2020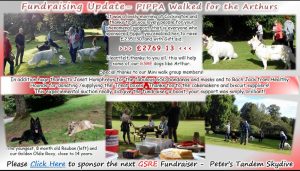 ---
Surgery For Bo – Persistent Right Aortic Arch – June 2020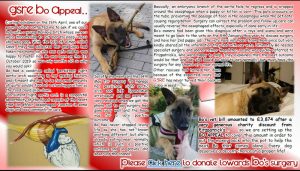 ---
GSRE Made Proud – Bella and Rocky License as Police Dogs with Essex Police – May 2020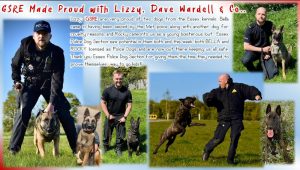 ---
Tuk's Law – Together Let's ensure Jo-Jo's Life Was Not In Vain – April 2020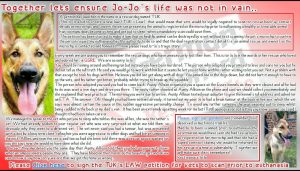 ---
The Day Lucy's Law Came Into Force – April 2020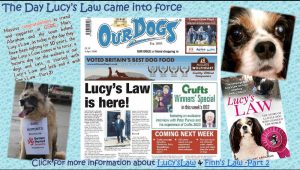 ---
Finn's Law Part 2  – Legislation To Increase Sentence For Animal Welfare Offices – April 2020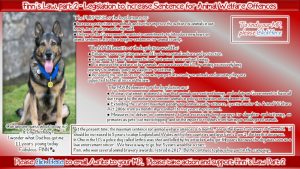 ---
Crufts 2020 – March 2020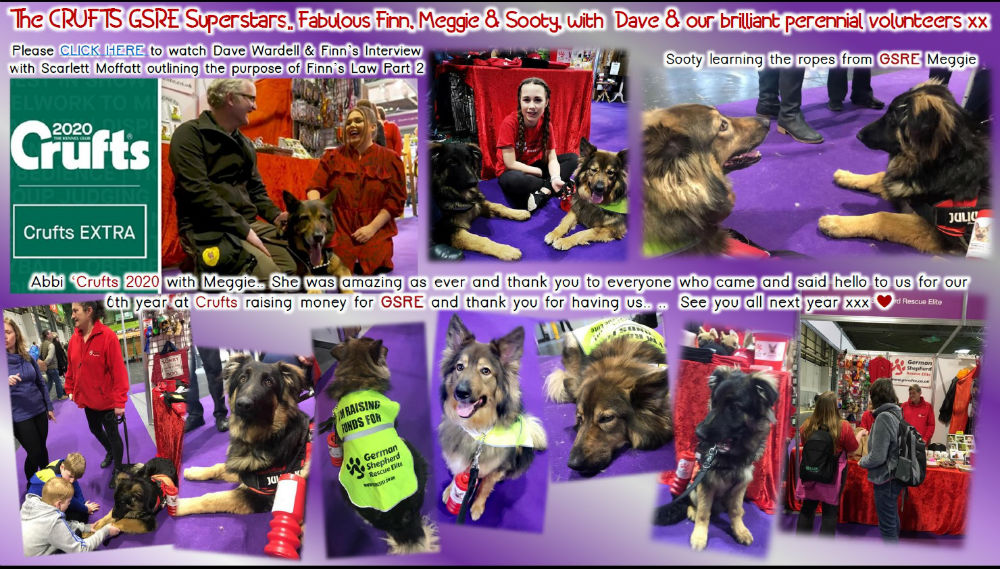 ---
Exciting Times Ahead Training with Dave Wardell & Darren Debenham – November 2019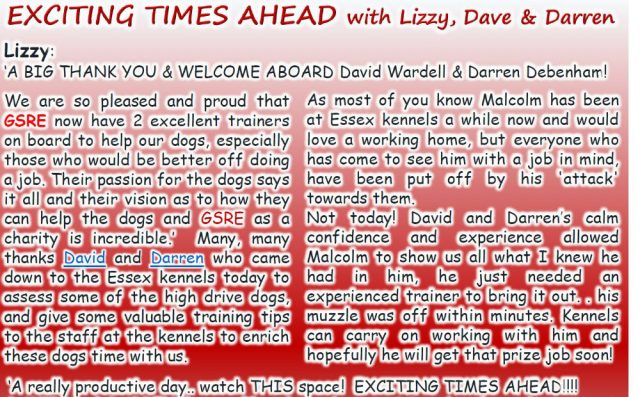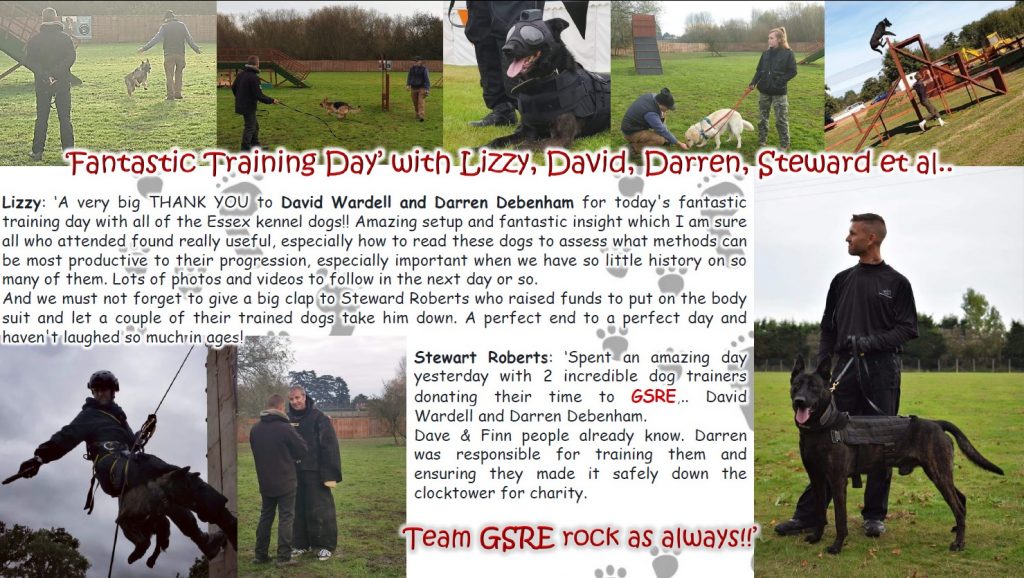 ---
Team GSRE Abseil the Clock Tower – September 2019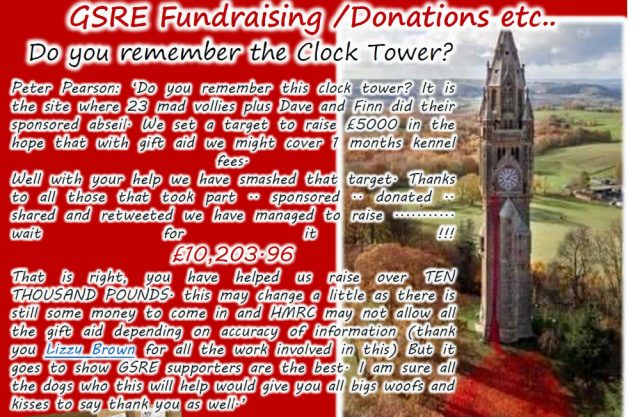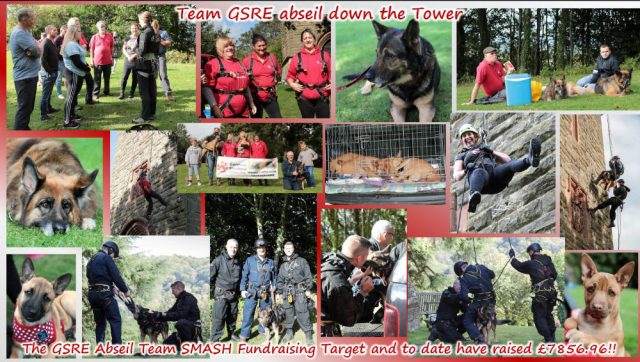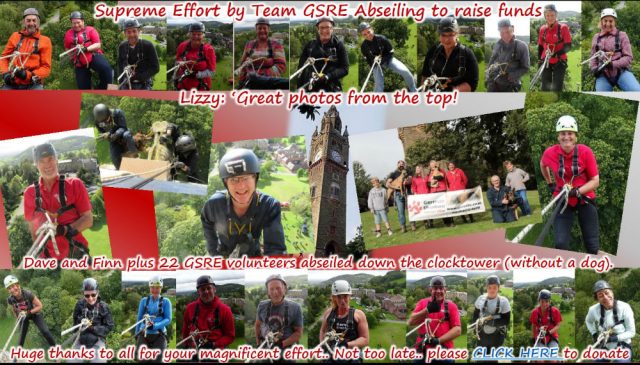 ---
Thank You Simon Cowell – July 2019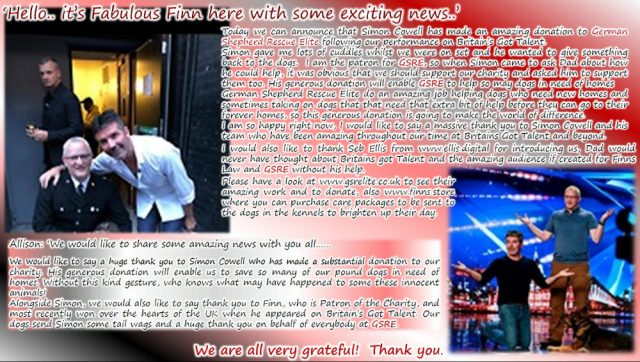 ---
Tala's Story- June 2019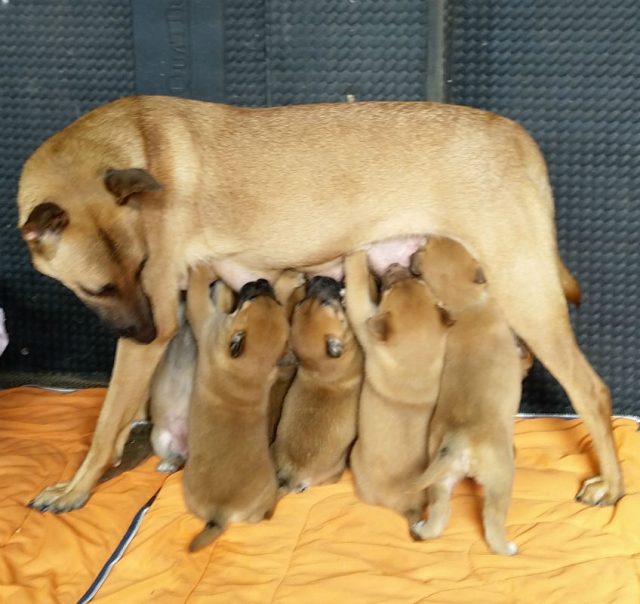 READ THE FULL STORY HERE
---
Dave & Finn Make History with Finn's Law – June 2019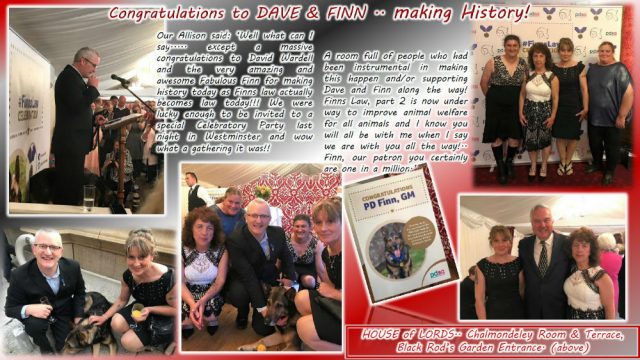 ---
GSRE/Agria Dog Walk – May 2019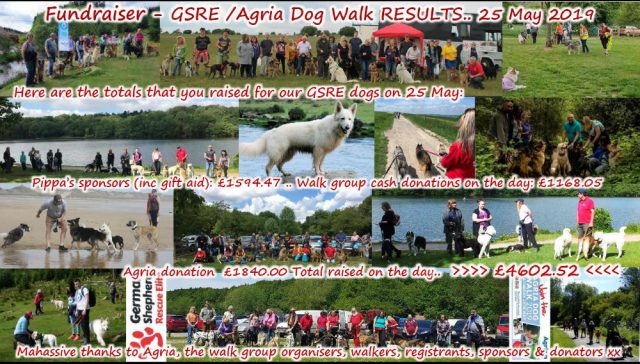 ---
Finn on "Britain's Got Talent" – May 2019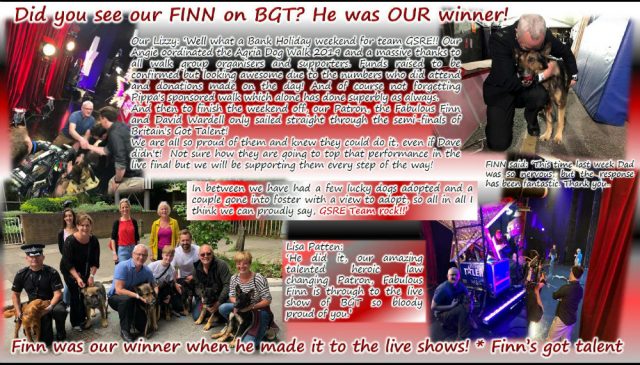 ---
Finn's Law – Final Reading in the House of Lords – April 2019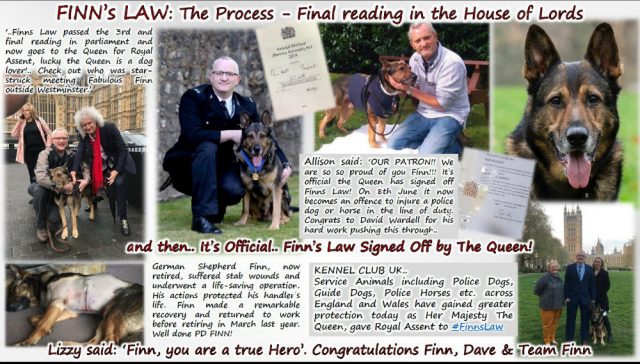 ---
Crufts 2019 – Fabulous Finn- Winner of "Friends For Life" – March 2019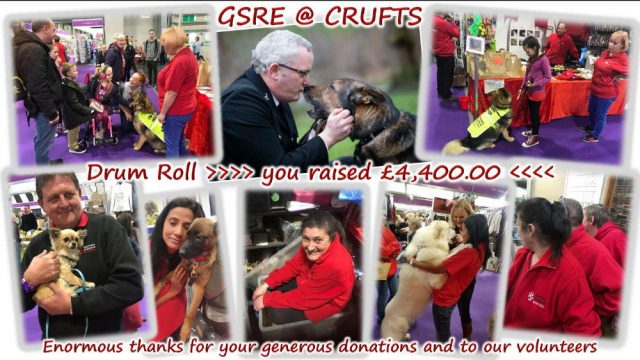 ---
Finn's Law Passes Committee Stage – January 2019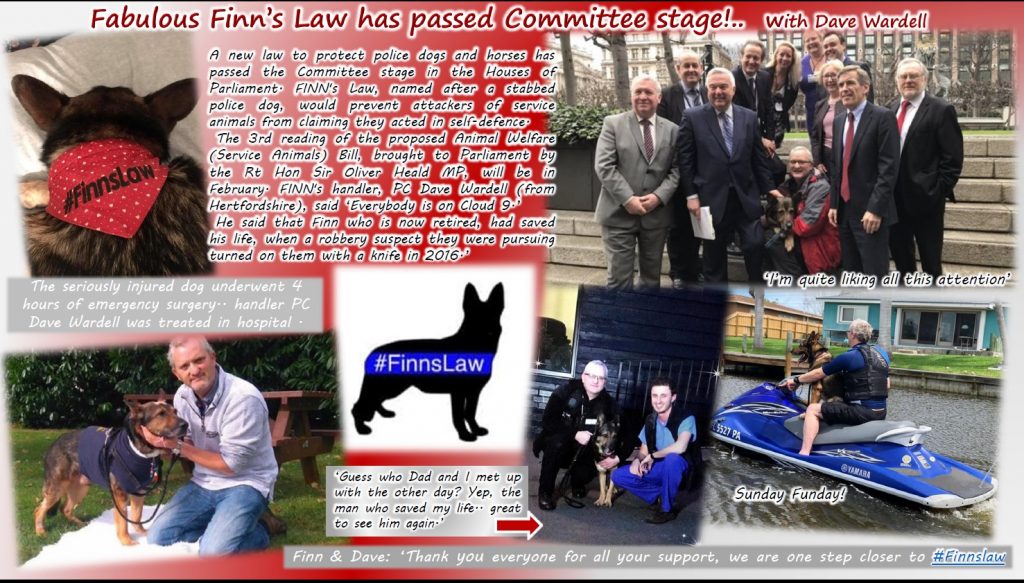 ---
Beds, Cambs & Herts Dog Unit Calendar – January 2019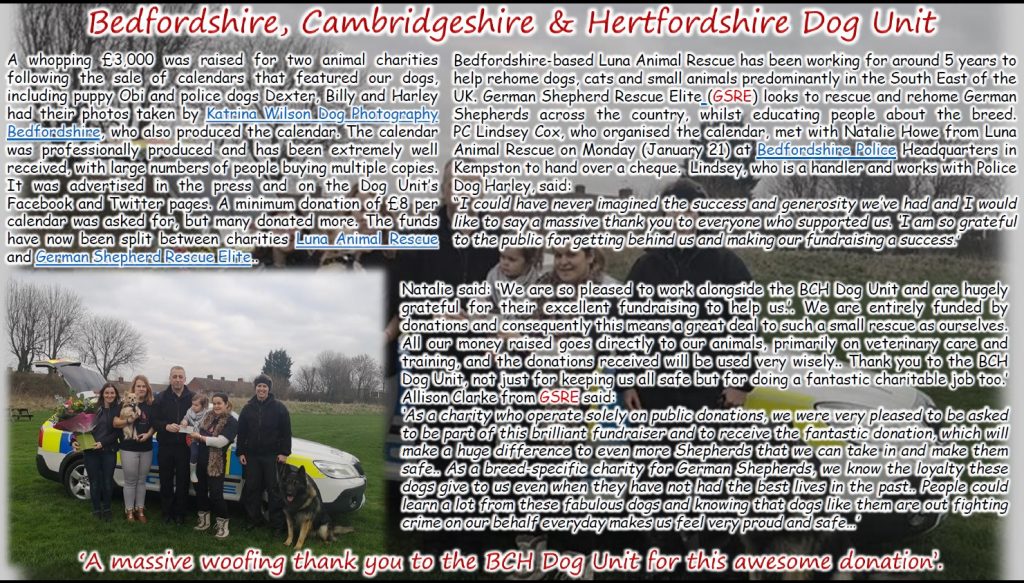 ---
Lisa's 24 Day Christmas Giving Advent Calendar – December 2018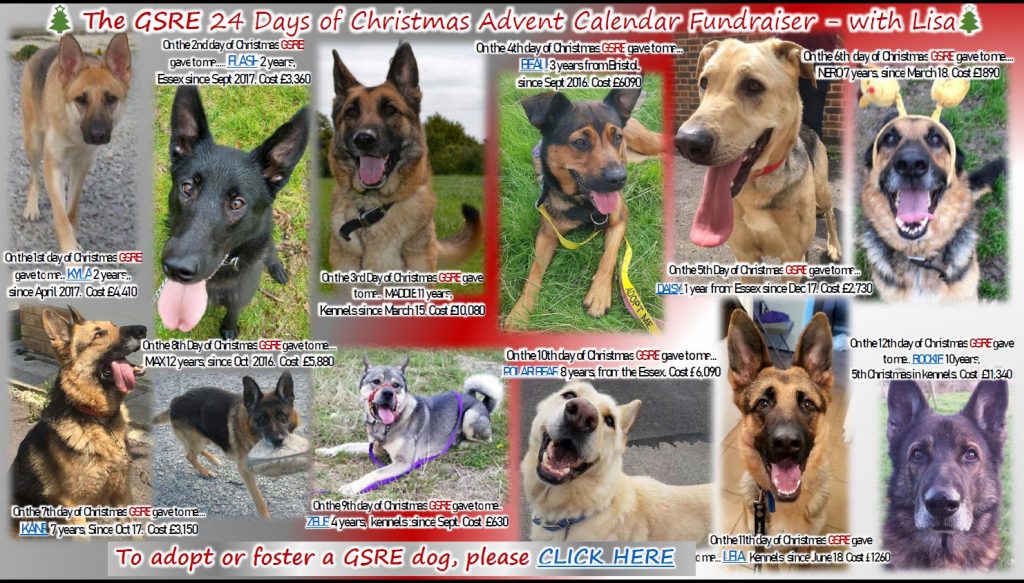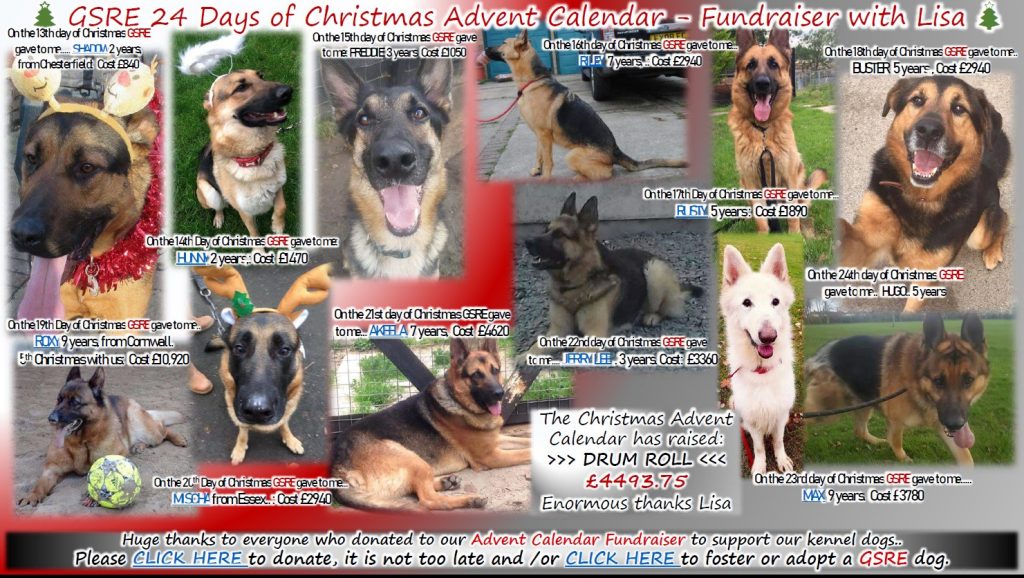 ---
Fabulous Finn becomes Patron of GSRE – December 2018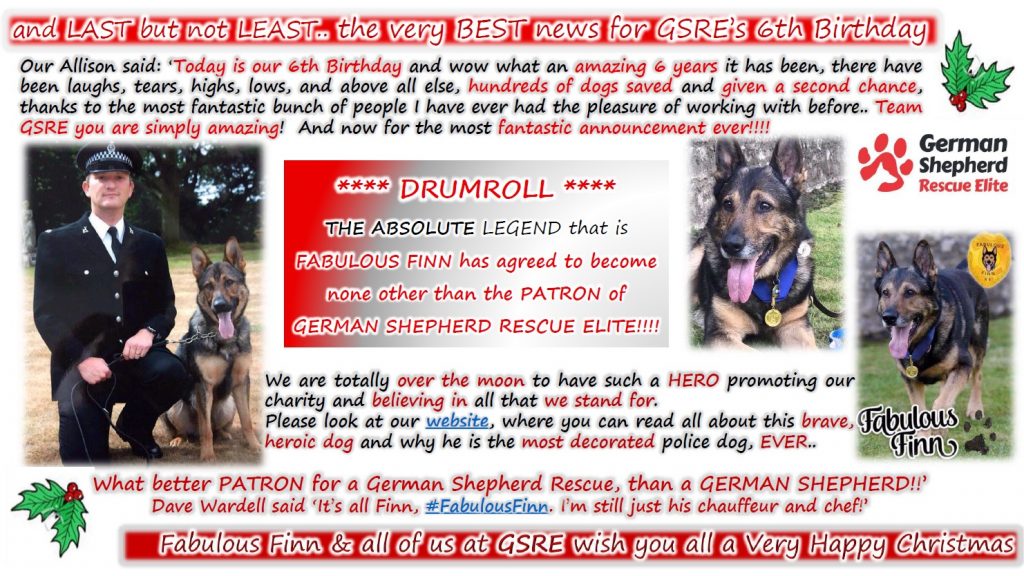 ---
Peter Pearson's Wing Walk – October 2018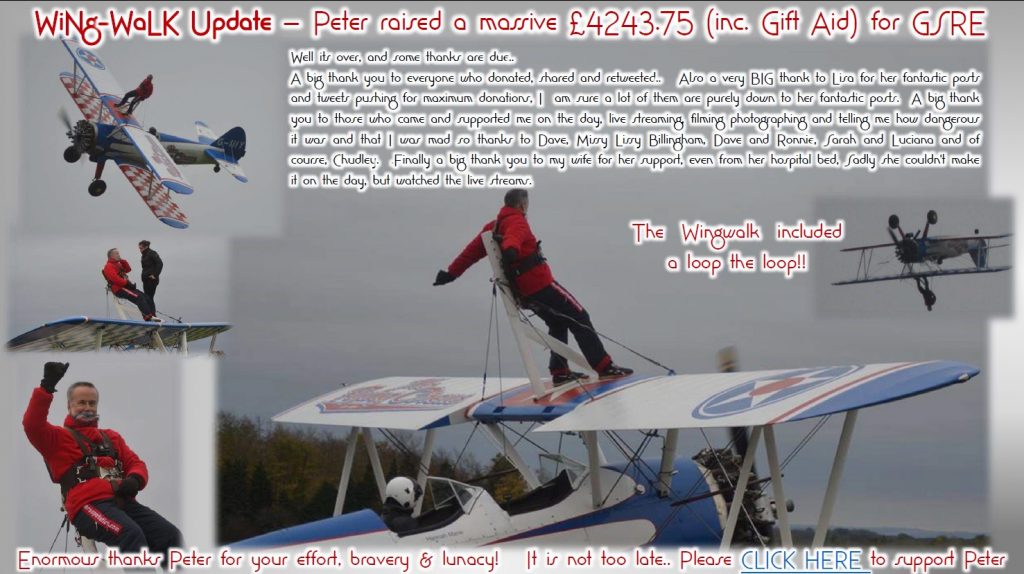 ---
Celebrating Lucy's Law – August 2018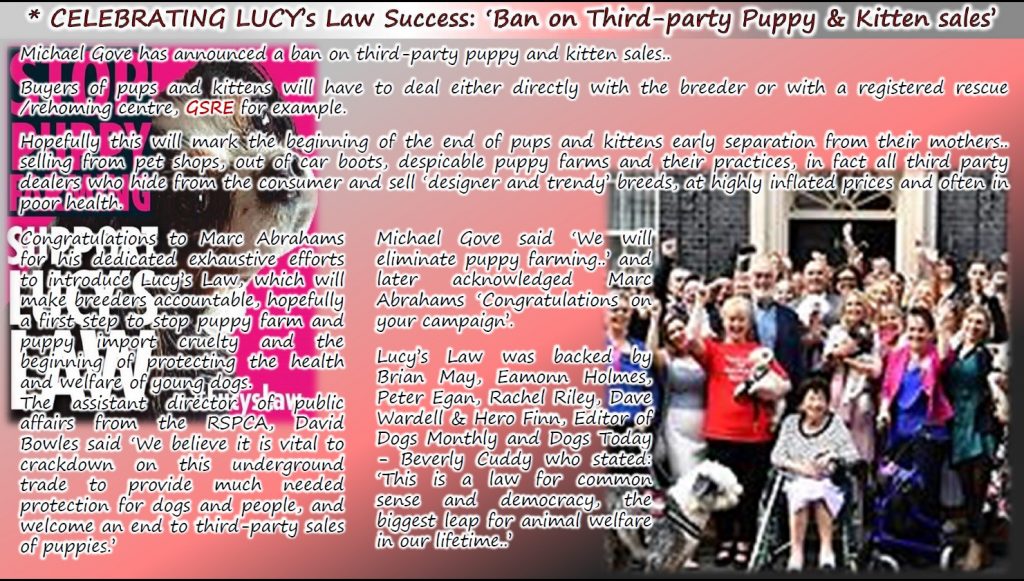 ---
Government Announces Support for Finn's Law – June 2018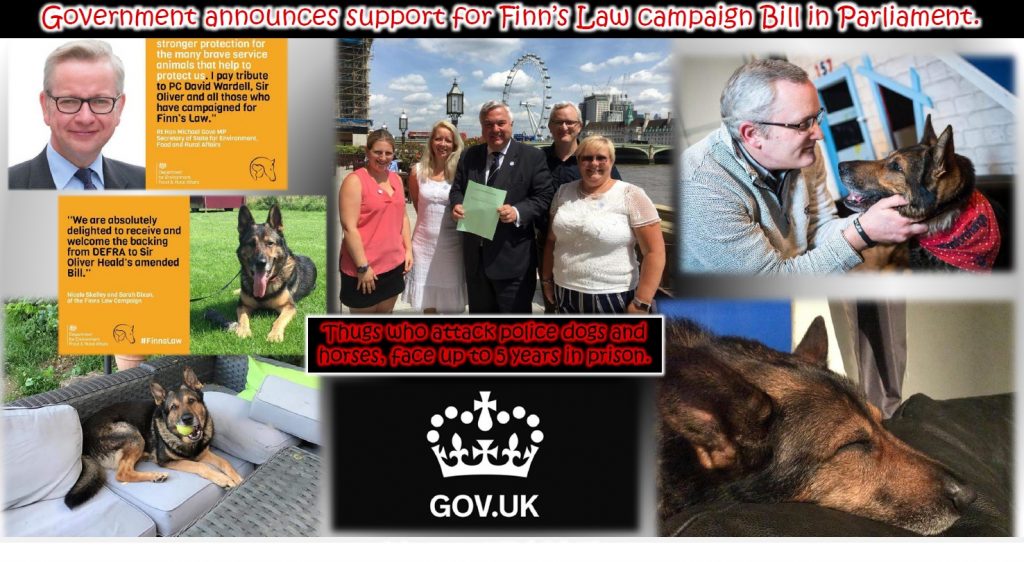 ---
PDSA Gold Medal for Finn – May 2018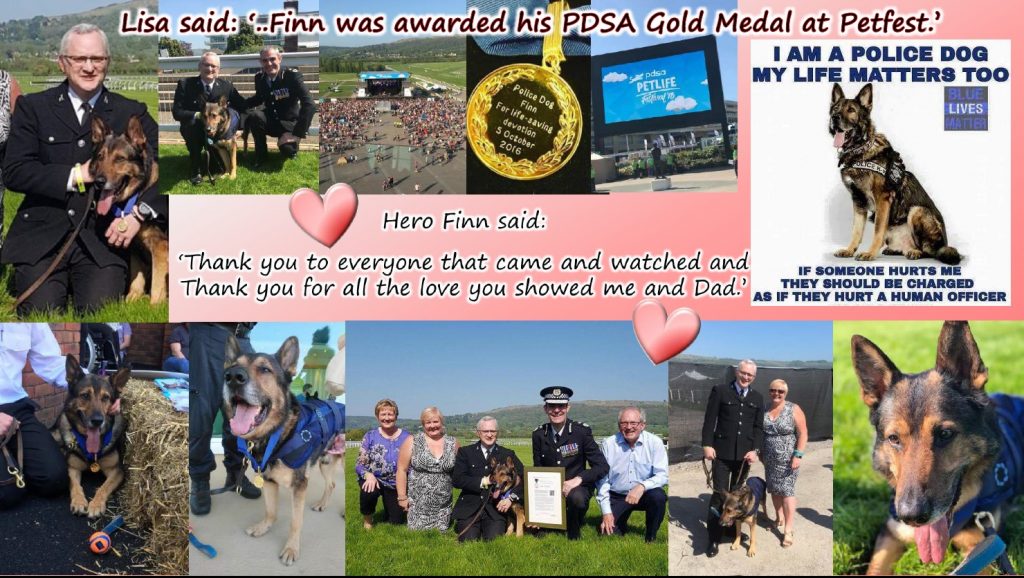 ---
London to Brighton 100k Walk – May 2018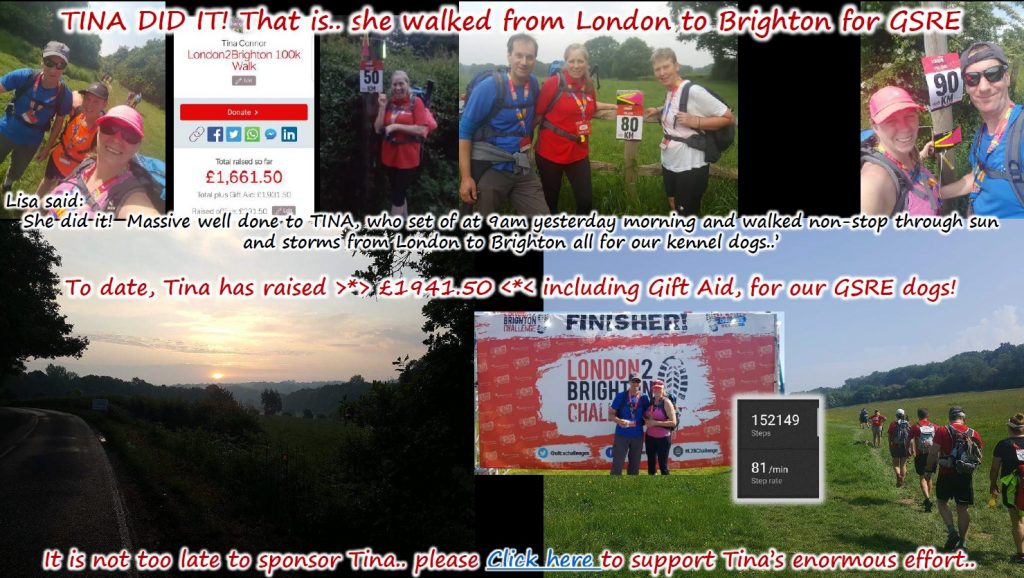 ---
Pippa's Walk for the Unwanted – April 2018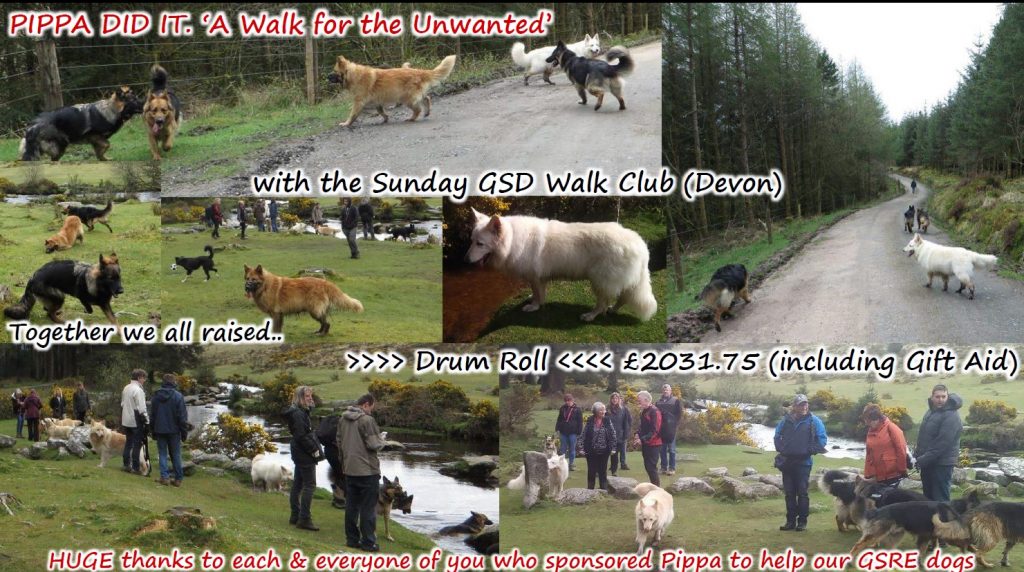 ---
Crufts 2018 with "Fabulous Finn" – March 2018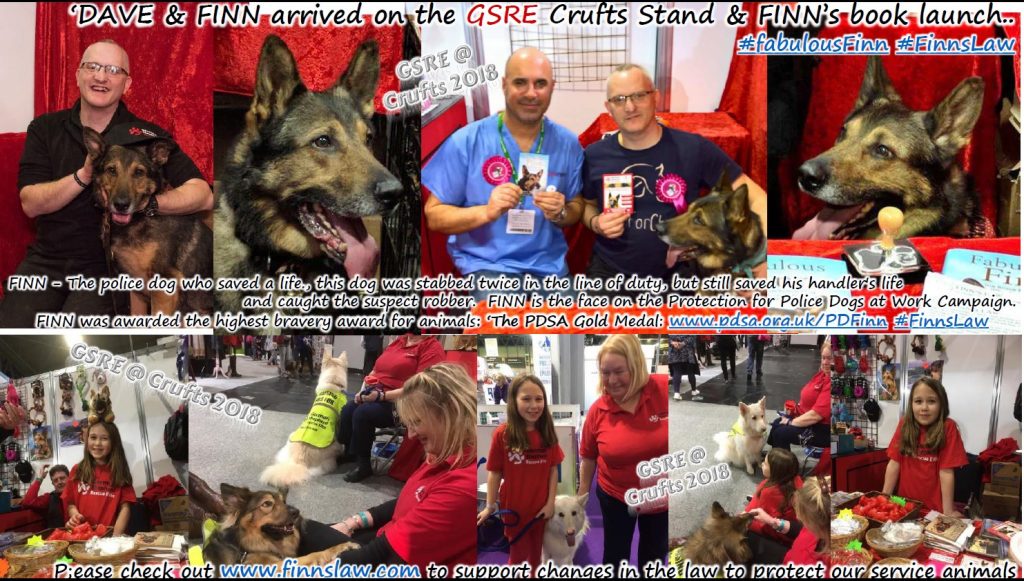 ---
Lisa's 24 Day Christmas Giving Advent Calendar – December 2017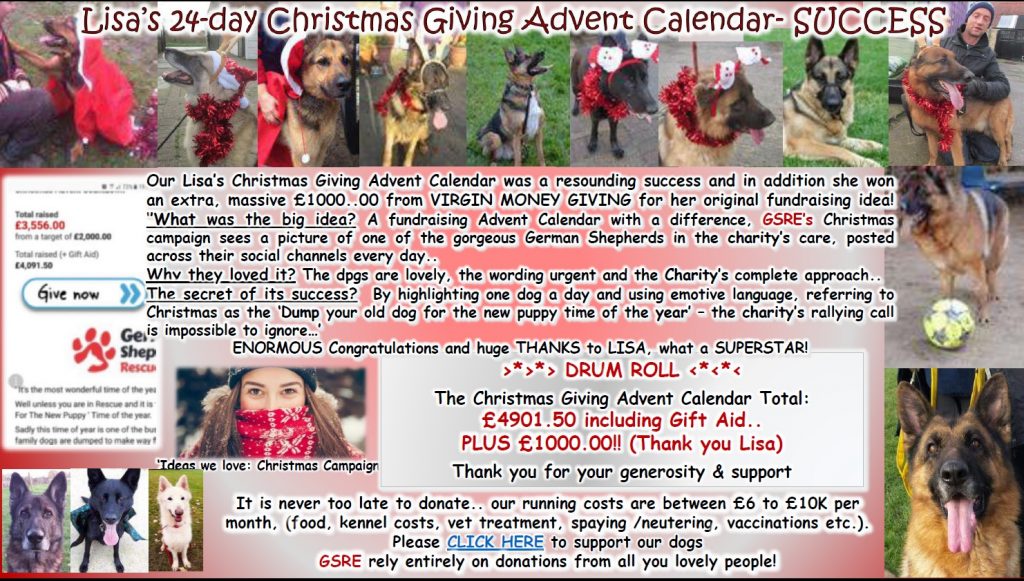 ---
Finn's Law Charity Skydive – 30th September 2017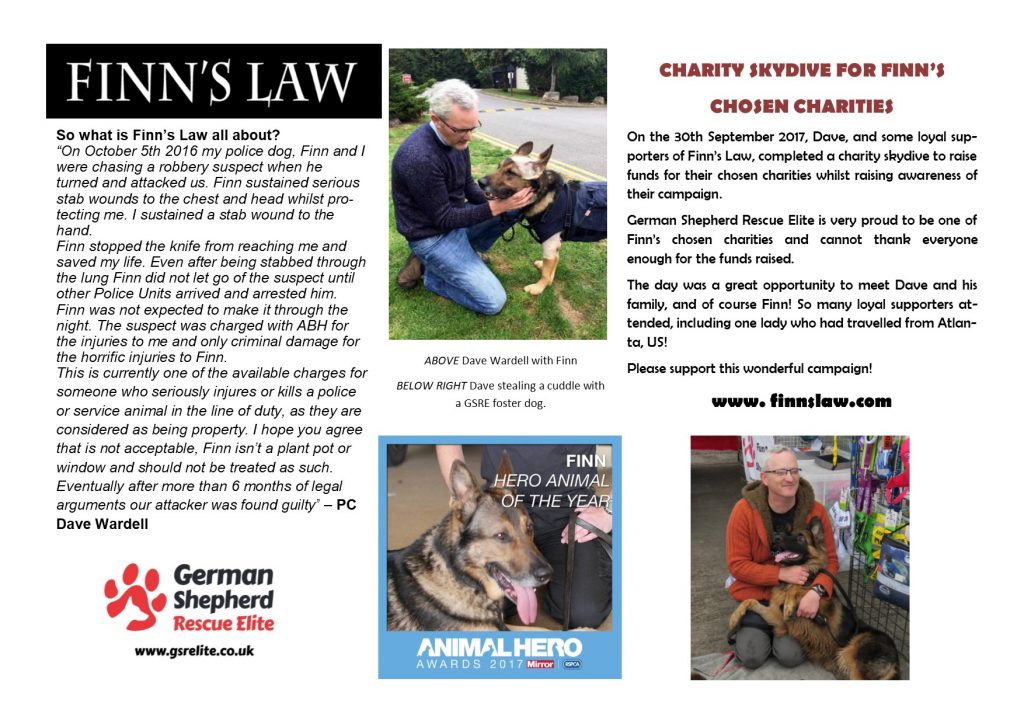 ---
The Rutland Romp – 4th June 2017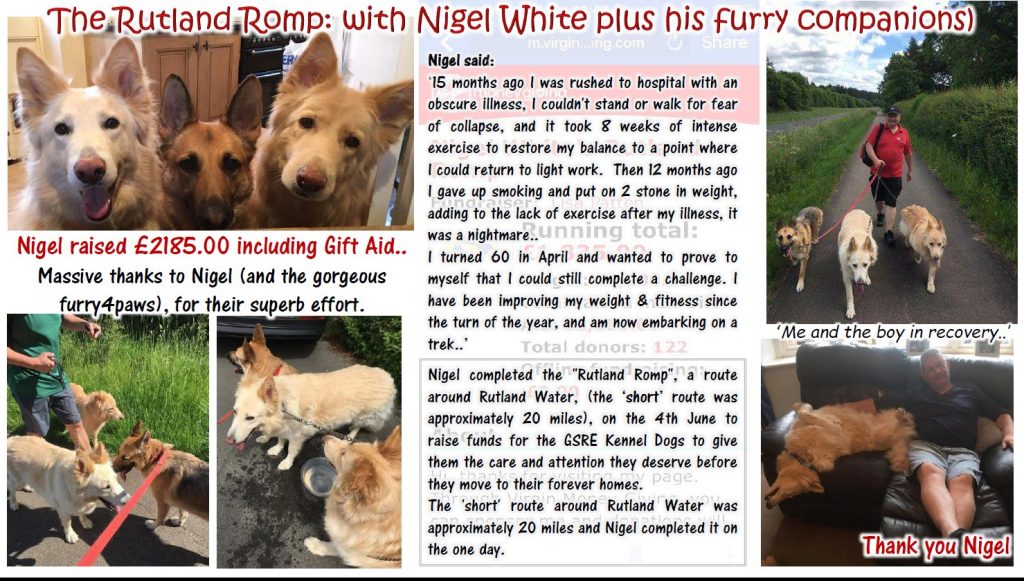 ---
Pippa's Walk for the Lost Souls – 30th April 2017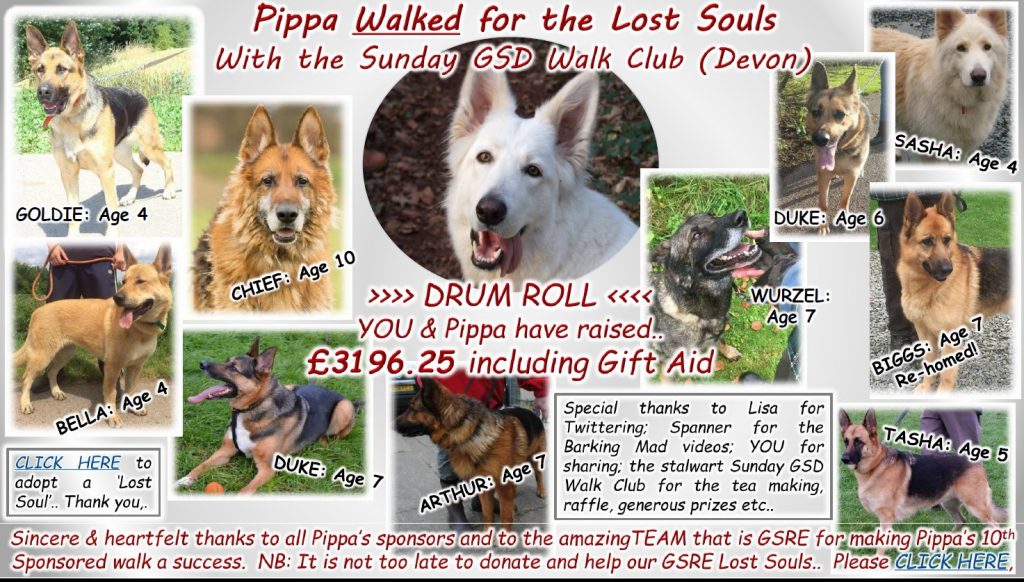 ---
GSRE & Last Chance Hotel Save Dogs & Puppies from a Backstreet Breeder – October 2016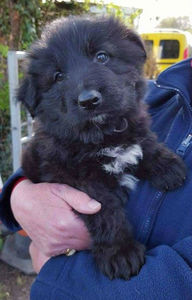 READ THE FULL REPORT HERE
---
The Cotswold Way Challenge – 24th September 2016
They Did It!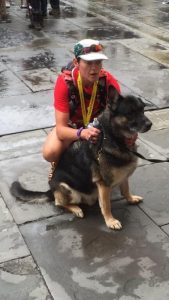 A group of GSRE volunteers and their dogs walked the Cotswold Way between them to help raise much-needed funds.They walked 102 miles of The Cotswold Way in one day on Saturday, September 24, by splitting up into four teams with their trusted four-legged companions.
To further boost the campaign, ultra-athlete and personal trainer Kate Browning ran the whole 102 miles in under 26 hours.Kate said: "My first dog was a rescue German shepherd and I have also rescued two border terriers. I am keen to raise awareness of the great work that GSRE does".
Donations with Gift Aid raised £7,518!!
WELL DONE AND THANK YOU ALL!!
---
Simon Wheeler Did It For The Dogs! – May 2016
Challenge: 21.8km cycle to the summit of Mont Ventoux.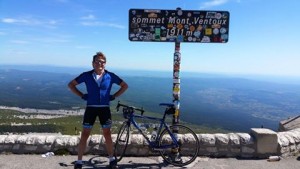 Simon Wheeler is the Managing Director of Agria Pet Insurance. But in addition to his day job, these past few months he's been training for a rather big challenge – one that will saw him helping to fundraise for German Shepherd Rescue Elite!
We're so delighted that he chose to cycle for our charity and in the process raised a magnificent £1,240 including gift aid. Thank you Simon!
---
Petplan & ADCH Animal Charity Awards 2016 – April 2016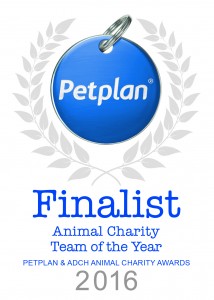 How proud are we!!
These awards are now in their fourth year, as is GSRE, and having been nominated for the Animal Charity Team of the Year, we made one of the 3 finalist spots!
The winners were announced on the 20th April at the Petplan and ADCH Animal Charity Awards ceremony held during the ADCH Conference. We may not have won but being a finalist is an accolade in itself and all finalists were deserving of the award.
We could never have achieved this without our wonderful team so you should all be very proud of yourselves and thank you!
Check out the other finalists here!
And to add to this, GSRE has also just heard we have been approved as a Full Member of the ADCH (Association of Dogs and Cats Homes).
---
Buster's Legacy – Please Adopt An Oldie! – February 2016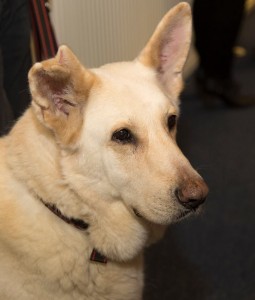 Buster came into the rescue in December 2013, along with a bitch called Storm. We never knew their true history as they had been dumped on a neighbour as no longer wanted. Storm found herself a home fairly quickly, but poor Buster kept on being overlooked.
During his stay he touched the hearts of so many of our volunteers with his fun loving antics and his truly individual personality. Buster was shared far and wide on social media in the hopes of finding him a loving home of his own and it worked. Finally Buster had his own Mum and Dad, Denise and Mark, who will honestly say he was not what they were looking for, but they fell for him hook, line and sinker.
Buster's proudest moment was when he won the Goldie Oldie Competition in February this year, and he so deserved the honour! None of us knew then how little time he had left and he smiled the whole day, knowing he was King for the day.
Sadly and suddenly Buster passed on to Rainbow Bridge in April after suffering a very short illness. Buster had touched the hearts of so many people in his journey with us, the tributes and tears have poured in. Our hearts go out to his Mum and Dad who are just so thankful they had the chance to share in his life and to be there holding him at the end. Buster passed peacefully knowing love and happiness which is not much to ask.
Buster was one of the lucky ones. So many older dogs come into rescue on a regular basis, many from the pounds where they have been abandoned or picked up as strays. Today's society seems to think it is OK to just turf the Golden Oldies out to make space for a younger version, or just because they no longer fit in with their lifestyle. The reasons are many, but these Golden Oldies all deserve a loving home to see their days out in.
They may not be around for long, but giving a Golden Oldie love and care until their time comes is so rewarding, as the love and loyalty they give back is more than you can imagine. They never leave our hearts but teach us how to open our hearts further to those in need. Please don't overlook the Golden Oldies!
---
GSRE Founders Become Authors – January 2016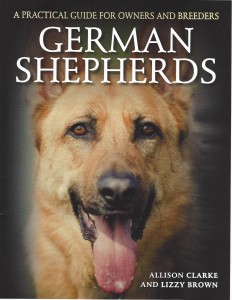 Very few people knew about this, but about 18 months ago we were approached by Crowood Publishers who asked Lizzy and Allison if they would be interested in writing a book on the German Shepherd. They had been trawling the internet for German Shepherd rescues, and were so impressed with our website and its content, that we were the ones they chose to ask.
They told us they wanted a book written in an accessible style whilst taking into account a rescue's viewpoint. As you can probably imagine we were shocked, very excited and also a little scared as this was quite a task that had to be done well. So…..behind the scenes, along with running the rescue…..we have written a book!
Released 25th January 2016. Of course you can buy it via the website with profits going back in for the dogs, so we hope some of you will buy one through our website and support us, our dogs and the rescue.
---
GSRE takes on Devon GSD Rescue dogs – January 2016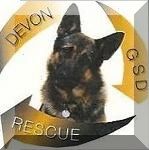 GSRE were contacted towards the end of last year by Devon GSD Rescue who had made the decision that it was time to close the charity as it was so difficult finding homes in a limited area and felt funds may not hold up during this coming year. Having worked with them in the past, and sharing the same kennels in Cornwall, it was agreed that we would take on their dogs, which currently stands at 10 in the kennels and 2 in foster.
All funds held by Devon GSD Rescue are being transferred across which will more than cover the dogs' kennel bills for the next few months. The trustees are keen to continue working with GSRE in a fund raising capacity and we have already received some substantial donations from people who have adopted from them in the past along with some additional volunteers. The hope is with our national coverage we will be able to find these dogs homes, some of whom have been in kennels quite a while.
---
Mount Snowdon Challenge – Reaching New Heights! -September 2015

Tuesday, 30th September, 2014 was a special day in the GSRE calendar: it was the day a new challenge was born.  After the success of "A Mile of Pennies", Debbie Rigby, Paul Saunders and Richard Hallett decided that going an ordinary mile doing fundraising for GSRE just wasn't enough.  So they decided to up the ante; 3,570 feet up in actual fact, to the top of mount Snowdon.
It couldn't be a GSRE challenge without any dogs so not only were there GSRE humans scaling the mountain, they were accompanied by GSRE dogs as well!  Initially, the three intrepid adventurers asked members of the Nottinghamshire Walk Group if they wanted to join in, and very quickly an 19 additional conscripts (aka mad volunteers) from around the country, signed up.
Of course, the whole point of this endeavour was to raise much needed funds for GSRE and also to quite literally raise the profile of the rescue to attract additional sponsors and supporters.
The challenge took place on Saturday, 26th September, 2015 , and what a fantastic result!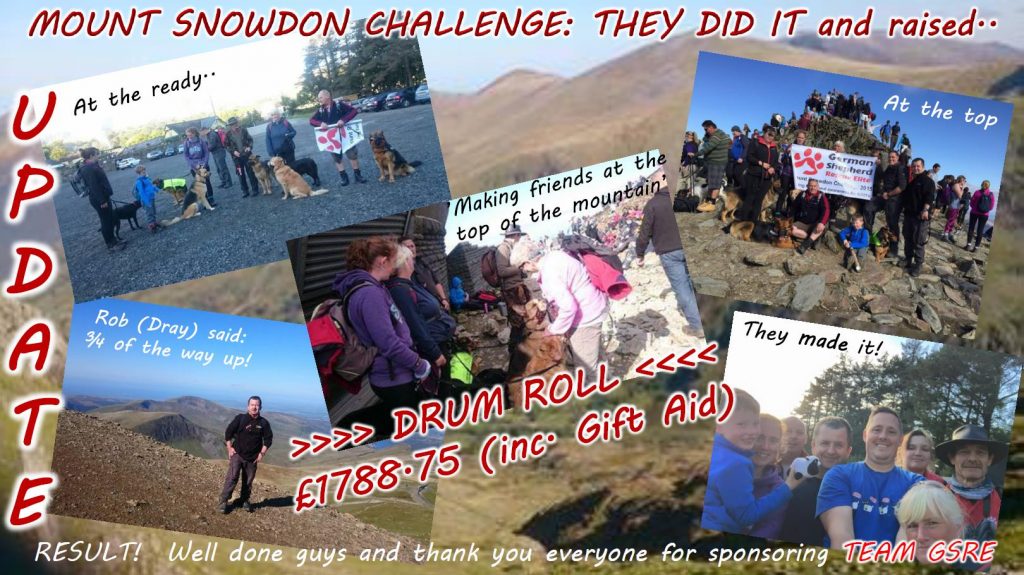 ---
I'm A Poundie Get Me Out Of Here!! – June 2014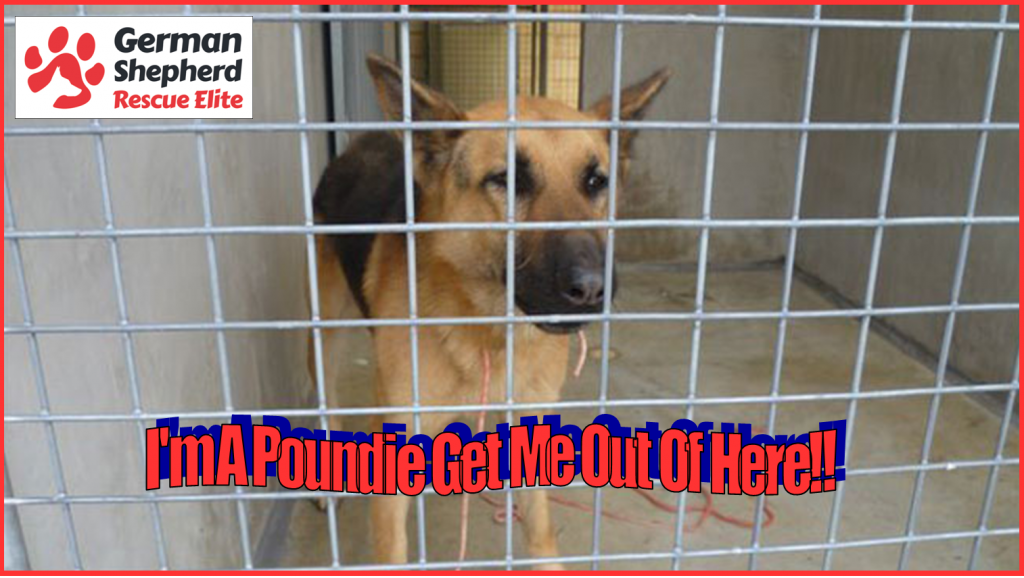 The main point of picking this exercise as a fundraiser was to try to emulate to everyone what it is like for the poor dogs in a pound or long term kennel life day after day after day bearing in mind their place of residence will be in no way as luxurious as the kennels the volunteers  lodged in for one night only, as many pounds only keep the dogs 7 clear days from arriving and if no one comes forward for them they will be Put To Sleep and that is the reality of real rescue, sad eh?
The major factors faced by our volunteers was the noise, the smell, the lack of interaction with people or other animals, boredom, bland food, limited exercise and lack of attention. And this was in good commercial kennels that care about the dogs, feed them well and give them as much exercise and attention as is practically possible.
It is time the public opened their eyes to the reality of what rescues face day in day out trying to save these poor souls who have nobody else to care about them, and to help reduce the problem, the public must stop buying puppies from back street breeders and puppy farms which only exasperates it further. Stamp out demand and these irresponsible individuals will eventually stop breeding when there is no money to be made.
A select group of Volunteers from the Charity German Shepherd Rescue Elite spent a full 24 hours in a kennel at a number of the boarding kennels we use for our dogs.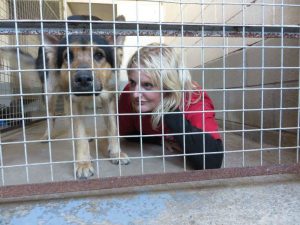 The money raised has been phenomenal with a grand total of £4396.06 including Gift Aid!
Bristol £725.95
Cornwall £861.97
Essex £1859.38
Nottingham £948.76
A special well done to the Essex Team, a big thank you to all the volunteers who took part in this event and of course to everybody who sponsored and donated! A lot more dogs will be kept safe thanks to everyone's amazing support!
---
Read 2 Dogs Scheme – December 2013

Olly Murrs found himself in rescue in July 2010 with 6 of his siblings in a neglect case where they were so underweight it was thought that he and one of his sisters would surely die.
Against all odds he battled through and today he is giving something back for having his own life saved.
Olly became a PAT dog in 2012 as his mum thought he had such a wonderful temperament that he should use  and share it with as many people as possible to show what a fabulous breed the German Shepherd is.
Olly has a great passion for children and when his mum heard about the Read 2 dogs scheme she thought there would be no better boy to do it than Olly.
Olly started his placement at Abbey Hill school near to where he lives and the welcome he has received has been outstanding but the improvement made by the children reading to him every week is truly amazing.
Here is a photo showing Olly at work and I think you will all agree he is a natural!
---
Shepway Spartans Promote GSRE! – July 2013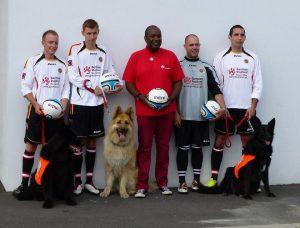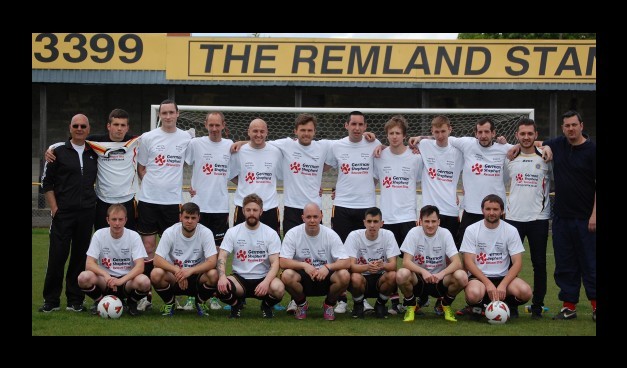 GSRE are the kit sponsors for Spartans for the 2013-14 season and here it is the first official photo of the brand new footy strip with our name on it!!
Our patron Rob Alleyne also came to support us and the Shepway Spartens with the new sponsorship deal which the club has funded, so a massive thank you to Gedd Gillespie who engineered it all. Here's to a fantastic season, lots of goals and to learning the off side rule!!!
Also a big thanks has to go to our canine stars who were Zac, Bindi, Sabre, and Sophie.
---
GSRE Welcomes Rob Alleyne as their Charity Patron – June 2013
German Shepherd Rescue Elite are very pleased to have Robert Alleyne as our Patron.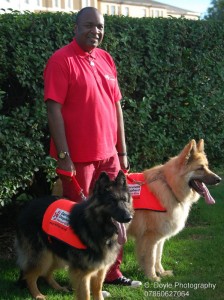 Rob is looking forward to having a 'hands on' role within the rescue in our pursuit to help as many German Shepherd Dogs as we can through action and education.
For more information on Robert Alleyne please visit:
---