Hello my name is Raymond and I am the very handsome mascot for GSRE, I try to help out where I can but sometimes it gets so busy it's all hands on deck and to be honest we always need more hands I can tell you!
To be part of a great team is a fab feeling but knowing you have also been a small part of saving many GSDs from some not very nice situations is a fantastic feeling, so volunteer for us today and make a difference in the world of Rescue…..you wont regret it and you may even get to meet me…..now that's a treat you will not want to miss!!
The Volunteer Process
Once you have complete the form you will be contacted by one of our volunteer screeners who will run through the application with you to check your suitability for the tasks you have offered to help with.
Once approved you will be added to our Volunteer List and will receive a welcome email. This list is only distributed to Screeners and Coordinators within the charity.
There are many ways you can help:
Home checking potential new homes and then carrying out a follow up visit once a dog is adopted.
Assessing dogs that need rescue help and carrying out the adoption handovers to new owners.
Transporting dogs that may need to be taken into kennels or foster.
Telephone work which can include being a screener or giving backup support and advice.
Organising local events for fundraising and promotion of the rescue.
Helping at one of the many fundraising events.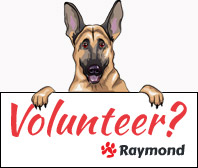 By completing the verification process you are giving German Shepherd Rescue Elite your consent to use your personal information as described in the adoption process at the top of this page and agree to our Privacy Policy.