We are sorry you feel you have to rehome your dog. Is the reason something we could help you with, like training advice, socialisation walks, or something else? Please do not be afraid to ask for help if you think we could help you keep your dogs with you, otherwise please complete the form below.
The Rehoming Process
Vet history where possible will be obtained from your vet so please ensure you give your vet the authority to pass this information on to us.
Initial contact will be made by one of our volunteers who will have been assigned to assess your dog.
The volunteer will arrange a suitable time to come and meet your dog in the home, take some photos for the website and where possible, take your dog our for a walk.
Please ensure you have your dog's microchip paperwork to hand and vaccination card.
Once assessed the report will be sent to a Coordinator who will put your dog onto our website and will be responsible for matching your dog to a suitable new home.
Usually the volunteer that assessed your dog will then organise any meets with potential new owners and if the meet goes well your dog will leave with the potential adopters.
Please note that you will not be able to meet the new adopters nor have their contact details due to Data Protection.
PLEASE NOTE that just because we have assessed your dog does not guarantee that we will be able to take them into our care. We are especially inundated at present with dogs that people have purchased without proper consideration or research meaning many young dogs are coming in with socialisation and behaviour issues. Abandonment of dogs is at a record high and we will always prioritise space for dogs in council kennels at risk of euthanasia over dogs in their homes as it is your responsibility to keep your dog safe until a home can be found. You must be prepared for a long wait as sadly, good homes are few and far between.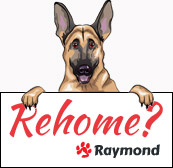 Complete Rehoming Request Form