I opened an email early one morning on a Bank Holiday Monday at the beginning of May from one of our volunteers. It stated,
"The rescue that I work most with in Cornwall is Last Chance Hotel Animal Rescue based near Truro.
Tomorrow morning at 5am our owner, Sam, is on her way up North to pick up a number of dogs that have been left in appalling conditions and she is bringing them back into rescue with us. Among them is a heavily pregnant GSD bitch.
Due to my involvement with GSRE, she has asked me to enquire if you folks would know of anyone who could foster the bitch through her pregnancy and also foster the mum with her pups.  Does not have to be the same person who does both."
Of course I rang the volunteer immediately and asked what the full situation was. She quickly passed my number onto Sam who called me to update what was happening. They had been asked by a local rescue to help remove a number of dogs from a site in Newcastle where the dogs were being kept in sheds and were lucky if they got a visit from the owners from one day to the next. There were 8 German Shepherds and 3 pups, along with 2 Russian Terriers. That day Sam was collecting a bitch called Crystal along with her 3 pups, and a bitch called Poppy who was heavily pregnant. They obviously were the priority. Of course we agreed to help the GSD's and after a dash across to the kennels we use in Bristol to meet Sam, I bought the 2 bitches and 3 pups home to Guildford.
The Pups: Buster, Navajo and Cherie
                                                                                                               I settled the dogs in, with my own 5 looking at me in horror at all of the new additions. I had been told that the pups were about 6 weeks old, but they were so underweight and dirty bless them, and they were still suckling off mum. At this stage we, as did LCH, believed we were merely helping another rescue, and getting ready for the next transport run to move the rest of the dogs, but little were we to know!
Some of our volunteers had been at the kennels when we had met, and photos had been taken and put onto our Facebook page. On the Wednesday, two days after the transport run, the trouble started, as the owners realised they were missing 2 bitches and 3 pups. Assumingly that was the first time they had visited the sheds since their removal early Monday morning! The first we knew of it the dogs were being reported stolen all over Facebook, so we removed all posts from our page and endeavoured to find out exactly what was going on. We were also conscious of the other dogs still in the sheds and were determined that they would not be left there.
The Mums: Crystal and Poppy
Allison, my co-founder, was called by the police from Newcastle, and she clearly stated to them that she had not been involved in any of the communication or transporting of any dogs from Newcastle and gave the police all of my details to make contact. Along with this she was bombarded by calls and texts which included all sorts of threats and demands and then a death threat, from the alleged owner, Joan Allison. She reported this to her local police and the case number was passed onto Newcastle police. It was two days later, late one night, when the police finally bothered to call me, and by now I was also receiving threatening texts and calls. One stated they believed we were stealing dogs from the North to sell in the South!
I clearly explained to the police that we had not stolen the dogs as accused, we had merely taken possession of them during a rescue transport run and had no idea at this stage of the full circumstances of their removal. Information was sparse coming through as it appeared that somebody working near the site had decided to get the dogs out for their own good as the RSPCA had been called, and all that had happened was a 3 weeks improvement notice had been issued, leaving the dogs in the sheds with little care. This person had decided that enough was enough, and the bitches and pups especially, deserved more. This person would not make a statement to the police because of fear of the repercussions from the family. I also pointed out that the alleged owner was stating that the all the dogs were tattooed and microchipped. Yes, the dogs had tattoos, including the pups, but they were illegible. Yes, the dogs were all microchipped including the pups, but none of those microchips had ever been registered! I then had to explain to the policeman that a microchip was not proof of ownership anyway, and the state these dogs had come to me, there was no way I would simply hand the dogs over. The alleged owner would need to produce proof the dogs were hers.
We had received a lot of messages from people who had purchased puppies from Joan Allison, stating they were not always healthy and that she was only in it for the money. The feedback was not good and made us even more determined to help the rest of the dogs, especially as we were now in possession of photos of the dogs in the sheds. Someone had contacted me to let me know which Authority the site of the sheds fell under, and the contact for the Environmental Health department. Expecting to have to leave a message as it was now Friday afternoon, I called them, and was in fact speaking with the Senior Officer for the department.
The 'Kennels' in Newcastle
                                                                                                                                                      I explained the situation and he quickly confirmed that Joan Allison did not have a license to breed and that he would look into it. I also told him that the RSPCA were apparently involved but nobody, including the police, had managed to get an answer as to who was the inspector or what stage they were at. To my pleasant surprise, this wonderful man went straight out to the site to see for himself what was going on, and reported back that he was not at all happy with the condition the dogs were being kept in and would make contact with the RSPCA to liaise. I made it clear to him that we were prepared to take all the dogs if removed, but of course this would depend on what action was taken. If the dogs were seized by the council and prosecution against Joan Allison begun, the dogs would have to stay under the council's control until any court case was heard. As far as he was concerned she would have a number of charges to answer to. He also pointed out this route would be costly to the council which also had to be taken into consideration.
By Tuesday the following week, he had still not managed to ascertain who was involved at the RSPCA, so advised me that he was going in the next day with the council approved vet. The Wednesday morning came, and sure enough the site was visited and the vet basically said that if he left the dogs there he would not be doing his job properly and that they all needed to be removed immediately which is what they did, apart from 2 of the GSD's which were signed over, with Joan Allison's knowledge, to a couple of local workers who had been caring for them in her absence. Money changed hands to ease the process. The dogs were all health checked and given a first vaccination and then placed in the council approved kennels.
The council contacted us and arrangements were made to collect all the dogs in their care. Sam from LCH, did another long haul transport run and delivered 4 more GSD's to our kennels in Bristol whilst taking the 2 Russian Terriers into her own rescue. From the first conversation with Sam on the 2nd May, we now had all the dogs safely in rescue care on the 16th May. None of this would have been possible without the Senior Officer from Environmental Health at Newcastle Council, and I expressed our thanks and admiration at how quickly and efficiently he had dealt with the matter. I think he was quite overwhelmed and stated that he was just doing his job, but I pointed out that if all councils did their job as efficiently and with so much compassion, so many more of these back street breeders and puppy farms would not exist. I would take my hat off for this man if I had one!
The Other German Shepherds: Ebony, Scarlett, Jasper and Zeus
Now the dogs were all safe for the present however we still had the issue of me being in possession of 2 bitches and 3 pups which had not been officially seized. A meeting between the council and Joan took place, where it was clearly explained to her that unless she signed all of the dogs over to the council for rehoming, they would be taking her to court on a number of charges. Joan signed the dogs over to the council, including Crystal and Poppy who were in my care, however because she stated that she had received payment from 3 potential buyers for Crystal's pups, they could not be signed over. Having discussed this with the council, and our joint concern for the pups, Joan was told that we, GSRE, would work with her to ensure the pups went to the homes that had purchased them. She would need to send us their details to enable us to carry out our usual checks, and we would hand the pups over under rescue paperwork with full rescue back up. Any balance of payment would go to Joan. We just wanted to ensure the pups were going to good homes where contact could be maintained.
We had become aware of one of these buyers who was expecting the little black girl and had paid the majority of the £600 asking price already. Sheila lived in the Channel Isles and had already organised her ferry and overnight stay at Poole to collect her little girl. She obviously had been frantic at the thought of not getting her, having not long lost her old girl. Joan had been relentless in trying to collect the pup from me as they, her and her son, had arranged to travel down to Poole for the hand over. They were making a weekend out of it by all accounts. She wanted to collect the pup in the way down, and then collect Poppy on the way back (who was due to drop at any time). Sheila had passed all our checks and we were more than happy for her to have the little girl, who became Navajo. I made it clear to Joan that we would meet Sheila with Navajo for the hand over as there was no way we were handing her to Joan. I also made it clear that Poppy would not be collected as I had paperwork from the council relinquishing her and she had thus been signed over to GSRE.
During this time Joan was also telling me that she had been conned into signing over Poppy by the council and that she shouldn't have done it anyway as she actually belonged to her other son, Anthony. I told her that was not for me to comment on and they would have to contact the council. So her son began calling and texting,
"You will have nothing to say when I come down tomorrow and punch ya fu**ing head in!"
I explained to Anthony he would have to take it up with the council not me who advised him that as Poppy was in his mother's care in poor conditions, they had every right to insist she was signed over as well. They were expecting 12 pups at £600 each, so does not take a rocket scientist to see what they were after.
Joan Allison and her son on their weekend away in Poole
I took another of our trustees with me, to cuddle pup on the way down (and to prevent me losing my temper with Joan), as we intended to keep the meeting completely calm and civil for the pup's sake. Sheila was now aware of the full facts relating to the removal of Joan's dogs, and agreed that she would happily sign our paperwork and pass the remaining £100 to Joan. She had of course been horrified when she had discovered the truth about Joan, and absolutely mortified she had been taken in by a back street breeder who had played on her emotional state at the time.
Meeting Joan and her son was something we did not relish, but in doing so, we realised why people had been fooled by her. She came across as a 'mumsy' type, who loved and cared for all animals. She talked non-stop about the dogs and horses she had rescued and the vet bills she paid every month caring for them. She said this was all one big mistake and that the dogs had not been seized and that the council were going to give her a license for the kennels (sheds) which were actually going to be rebuilt properly from the money raised from selling Poppy's pups. Having had the bitches from pups, and having hand reared a couple of them, she was devastated to lose them. Apparently Poppy's litter was a mistake, as was Crystal's, and it was not her fault as somebody else had let the dogs get together to mate and it was too late to terminate by the time she realised.I had to bite my tongue not to point out the obvious; why did you not get them neutered?! I was told that Poppy's last litter had been 12 pups and she was the same size again so they expected another large litter. I reminded her to pass on the details of the other 2 buyers and was given a scrap of paper with one name and details on, and told she would send the other when she got home on Tuesday after her weekend in Poole.
Relieved to be on our way home, and with Navajo safely in the hands of her new mum, we recounted all the rubbish that had spouted out of this woman's mouth, and the really sad thing was, she seemed to believe her own lies! From the start, I had told Sheila I could not be sure the pups were pure German Shepherds as Navajo and Buster (as we had named the male) just did not have the right coat or ears in fact. Joan kept telling me to stop telling people this as they were pedigree and they all had certificates. Sheila sent me the certificate she was given for Navajo, and well, basically it came from a site that I believe is making money out of backstreet breeders! The pedigree was not from the Kennel Club as was expected by the buyers but from a company called The Pedigree Pets Registration Club Limited which appears to be a DIY database to produce what you want on a pedigree for unsuspecting buyers. We now have confirmation that Joan completely lied about the father, and this site is a con, as Crystals's male pup, Buster, has recently had a DNA test which shows he is Anatolian Shepherd, German Shepherd and Black Russian Terrier!
The Pedigree Pets Registration Club Home Page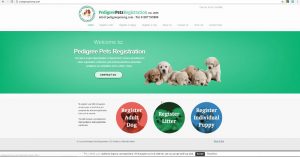 "Part 1 of 4
Application form to register your dog, puppy or litter online.
Litter Registration £9.00 per puppy
Individual puppy £20.00
Adult dog £25.00
Please complete the form below so we can generate a three generation pedigree and registration certificate for each dog, puppy, or your litter. "
The next couple of weeks became a farce of Joan sending me details of people who had paid for the remaining 2 pups, Buster and Cherie, with one supposedly changing their mind because we were involved, and the other expecting a bitch with a Kennel Club pedigree. Then we were told she had given us the wrong details or was giving us the details of other people who were on the waiting list as such. This back and forwards game went on and in the end I said enough! The agreement had been that we would work with the people who had paid money for the pups already and as these people were no longer wanting them, if they ever did, we would rehome them. Joan's response was,
"So you will sell them for me."
When I pointed out that no, we would be offering them to people through the rescue who had been fully home checked, and they would be adopted through us, she stated:
"Well that's no good to me. Right leave it with me. That's my holiday spending money, haha…."
Poppy had meanwhile given birth to 6 beautiful pups, and I was then accused of telling lies as she must have had more as she was so big. I think they still believed that somehow they would get the pups back to sell. I bluntly told Joan that we had done everything in our power to work with her and that enough was enough and I would have no more to do with her. I gritted my teeth and ignored any form of communication from them, and got on with caring for all of the dogs in our care and finding them new homes. The other 4 adults that came into our care, Jasper, Ebony, Scarlett and Zeus, were all neutered. 2 of them had been microchipped, but again never registered, and the other 2 were microchipped by GSRE.
Poppy and her 6 New Born Pups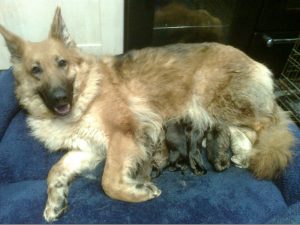 The Russian Terriers taken in by Last Chance Hotel
LCH had the biggest task with the 2 Russian Terriers, Diego and Floyd, who were so matted they could hardly walk properly, and were covered in their own faeces and infested with worms. Both went straight to the vets to be fully clipped and neutered and now had hope at a proper chance of life in homes.GSRE found homes for all of the GSD's taken into their care, and of course Poppy's puppies, who all went out fully vaccinated, microchipped and wormed, and have turned out to be gorgeous bundles of fun. Buster and Cherie also found new homes through us, and I still question who dad was as Buster and Navajo look nothing like GSD's in their colouring!
All is well that ends well for these dogs, and the council assures me they are keeping a close eye on the family so Joan Allison does not start over, and advised us that the landowner has bulldozed the sheds, but this whole episode really highlights the need to prevent 'breeders' being able to sell puppies on internet websites, as what is advertised is rarely what you are getting. If there was some form of register that breeders had to be on to be able to advertise puppies, then maybe the authorities would have a better chance of monitoring back street breeders and puppy farms. Something has to change as at the end of the day, this excess in irresponsible breeding only results in more dogs coming into rescue or being destroyed in pound kennels every week. Many of these dogs are simply surplus to requirement and are medically and temperamentally sound.
It is the vicious circle of life that we still allow to happen in a supposed civilised country. This is the reality of rescue!