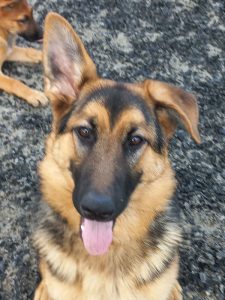 Gracie, has been through such a lot in her short life and her journey with GSRE started in late October having received a message from a dog warden we have worked with in the past:
"Hope all is well with you. I'm sure you're overflowing like everyone but I took in a lovely girl today who has two 6 day old puppies. I got them signed over as the young girl was not coping with them and left them alone in the house only visiting to feed them once a day. Poor dog was barking and howling for hours on end and housing association told her they had to go. I really hope you can help."
As you can imagine we could not say no.  We were told Luna is about 13 months old. Not microchipped or vaccinated and already on her third home!
One of our wonderful foster homes went and collected mum and pup. Sadly mum had no real interest in the pups, they were pretty inactive, and she just wanted to be with people and was willing to try and destroy the house to get to them. Foster mum spent the night with them and started bottle feeding as Luna had no real interest in them and it is amazing they have made it this far. The puppies were actually hydrating by sucking each other to drink their sibling's urine!
Poor Luna is a produce of the state of our society! Three homes, left alone to deal with puppies on her own, it is hardly surprising she just wanted some people contact and affection, especially as she is such a loving girl and was just a baby herself.
The decision was made to split Luna and the pups, who we were told were called Ivy and Lilly, so Luna sadly had to go the kennels, and the pups were going to be hand reared by foster mum. The pups were struggling, and foster mum's vet advised worming but even this was impossible as they would scream, so I asked the vets to take them both in for the worming period and to get them suckling properly and on the right path. At this stage we really were not sure they would survive. However, three days later they were ready to leave the vets and now suckling well and gaining weight, however their original foster mum decided she could not cope so I collected Ivy and Lilly myself and bought them home at the tender age of 3 weeks.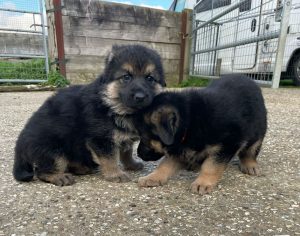 So commenced lots of bottle feeding and the cleaning and cleaning up of 2 now energetic and quizzical pups. Their aunties were great with them in teaching them the things Luna had failed to in terms of respecting your elders, boundaries and doggie etiquette. Both Ivy and Lilly thrived and were now eating solids happily, and having been microchipped and had their first vaccination were ready to go to homes of their own. Ivy, renamed Gracie, and Lilly, renamed Blue, both went to homes where there was another dog to interact with and continue learning from.
Not long after adoption, Gracie's adopter contacted me to say she appeared to be leaking urine so her vet put her on Synulox thinking she may just have a UTI. The leaking continued however so a urine sample was sent off which showed there was still an infection, and the vet suggested an ultrasound to examine her ureter. The ultrasound was carried out the week before Christmas. "The scan suggests that one of the ureters is not inserting in the correct place, some concern there may be communication to vaginal canal as filling with urine rapidly. Inflammation can be seen."
Gracie was kept on Synulox and given some Metacam to help with the inflammation and was referred to North Downs Specialist Referrals as an emergency. Gracie was admitted 29.12.22 where another ultrasound was carried out and the next day an endoscopy – cystoscopy examination. Another urine sample was also taken. We were advised that Gracie needed surgery for an ectopic ureter and this would be open surgery meaning that a better visual of her anatomy would be possible. This was booked for the 18.1.23.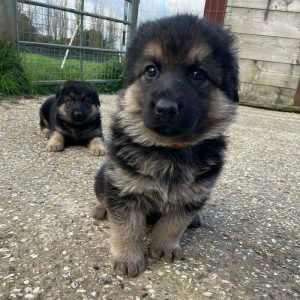 It was decided that Gracie should come back to me until then as her adopters were struggling with her incontinence. On ringing for the urine sample results a week later, it was established that the sample had been lost, and I was also at this time informed that she needed a clear sample for surgery, so 10.1.23 I had to take Gracie back to be sedated again to extract another urine sample as we could not risk contamination skewing the results.
Gracie was admitted 18.1.23 for surgery but I was called the same day to be told that on further investigation she did not in fact have ectopic ureters. Instead, she had a condition called dual vagina.
"This is a condition whereby a thick septum separates the vagina into two separate cavitied. This is very unusual and gave the appearance on the first scope of two tube like structures which we had considered where her ureters. This is a condition which is a more advanced  version of vestibulo-vaginal remnants.
This condition has been associated with urinary incontinence due to suspected pooling of urine within the cavities. It is treated by ablation/destruction of the septum which we are hopeful we have performed. I am hopeful that this will improve her urine dribbling and reduce her susceptibility to urinary tract infections."
Gracie had been discharged to her adopter as we were now of the assumption that the surgery should have improved Gracie's condition. She was due to go back for a check up and have another urine sample taken 3 weeks later but she came home with an upset tummy and she was not comfortable trying to urinate, and in fact worse than she had been before, so 1.2.23 she was re-admitted for further investigation to check the procedure had been performed correctly and whether scar tissue may have formed at the septum. During this procedure it was found that the septum had not been completely removed and in fact a third to a half had been left behind; this time we were assured it had all been removed. I was also assured there were actually no problems with her bladder. Gracie was again discharged to her adopter on 4.2.23.
Gracie was still struggling 9.2.23 and her adopter was now losing all faith that Gracie's problems would ever be resolved, so I had a very frank conversation with the vets. They basically told me that there was nothing else they could do, and I felt they were just washing their hands of us now. I insisted that Gracie was referred to Aura Vets (previously Fitzpatrick Referrals soft tissue) as an emergency as I was not prepared to give up on this gorgeous little girl who had come through so much already and always been happy despite it.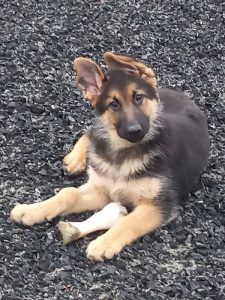 We all went to an initial consultation 13.2.23 and the next day she was admitted for a cystoscopy. We were advised that Gracie required a vaginectomy and urethral reconstruction however, she needed to be 6 months of age, so her organs were properly developed. This meant keeping her on antibiotics with the risk she may become resistant to them. The adopters asked me to collect Gracie from her cystoscopy due to prior commitments, and the next day they said they could not cope anymore with the leaking, and I don't think they believed there really was a cure so did not want the heart ache either, so Gracie came back to the charity.
Gracie was quite happy being back with her Aunties and of course I also had Pearl's pups here still, so plenty of playmates to start. She did become resistant to Synulox so was changed to another antibiotic which we managed to keep her on until her admission date of 20.4.23. Gracie is actually a very clean young lady, and with access outdoors most of the time, she only leaked at night when asleep. The big day arrived, and Gracie was admitted, and it was expected she would be kept in for 7-10 days.
Further diagnostic imaging was carried out to start and then Gracie underwent a vaginectomy, urethral reconstruction, ovariohysterectomy, and urethral sling. It was explained to me that her vagina went directly into her bladder and that part of her bladder wall was non existent which is why urine was getting everywhere and pooling and thus causing the infections. "There is a congenital anomaly affecting the formation of the urethra, vagina and vestibule. The vagina opens approximately 3.5cm from the vulva."
Gracie now had a long road of recovery ahead of her while she learnt to use her bladder all over again and she healed internally. This meant a series of drugs and manual expression of her bladder to start however, the vets did not feel she was improving as they had expected so advised they planned to carry out a small surgery on 30.4.23 to release the urethral sling to see of that would help. Fortunately, they did as is was found that she had a pyoabdomen/peritonitis. The vet believed there must have been a leak after surgery which had now healed as all pipes were solid. Gracie has shown no clinical signs of infection prior to this so along with releasing the sling, she was obviously treated for the infection.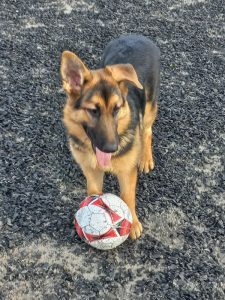 Gracie was finally discharged to me 10.5.23. She was still on antibiotics and extra drugs to help with her bladder muscles and had to stay on lead for another week until all sutures could be removed. She was now urinating herself, more often than normal but she was still getting used to her new bladder functions. She was a nightmare bless her; she couldn't understand why she wasn't allowed to run around and play with her friends, so when she went back on the 18.5.23 to have her sutures removed, it was a day to celebrate. She also had an ultrasound to check everything was still in order and another urine sample was taken where it was discovered she had now become resistant to another antibiotic, so this was quickly changed.
The final plan was that once she had finished her course of antibiotics, I would take another urine sample to them. The 19.6.23 I delivered a warm sample to Aura Vets, and we crossed everything. Gracie was now acting like a typical 8 month old pup and unless you knew, there was no indication of the problems she had dealt with and smiled through the whole way.
"These confirm resolution of the previous urinary tract infection (culture negative, no visible bacteria). A moderate struvite crystalluria was present and we have discussed the possibility of this being a real finding rather than purely artefactual, and have advised a further urine sample in another four weeks to reassess. Dietary modification may be required at this time.
It seems that all of Gracie's clinical symptoms related to her urogenital system have resolved, and she is now acting as a completely normal young dog. We thought Gracie had found her forever home with a family and their dog, but sadly they did not feel they were the right match due to her lack of socialisation with the big wide world, so much she missed in her early months, and for some reason she took a dislike to their young son. Gracie is currently in Cornwall getting lots of love, training and socialisation with Dave and his family, and it will need to be a very special home that comes along for her now as she does not deserve any more upheaval. Gracie is still smiling though and loving life as she always has.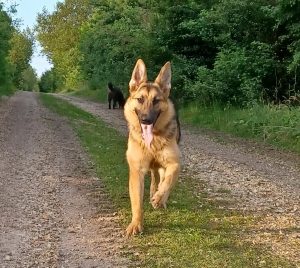 Summary of costs
DATE
NAME
AMOUNT
19/06/2023
Gracie (Ivy)
118.37
VPG Urine analysis
18/05/2023
Gracie (Ivy)
493.32
Urine analysis

Ultrasound

Amoxcilline 350mg

10/05/2023
Gracie (Ivy)
10903.91
Surgery re bladder defect
05/04/2023
Gracie (Ivy)
74.27
Doxycare tabs 200mg
24/03/2023
Gracie (Ivy)
74.27
Doxycare tabs 200mg
12/03/2023
Gracie (Ivy)
64.04
Doxycycline 400mg
27/02/2023
Gracie (Ivy)
47.23
Synulox 250mg
14/02/2023
Gracie (Ivy)
1782.41
Cystoscopy Aura Vets
13/02/2023
Gracie (Ivy)
252.00
Initial consult Aura Vets
Aura Total & Paid
13809.82
07/02/2023
Gracie (Ivy)
-2429.79
Goodwill gesture to match estimate
07/02/2023
Gracie (Ivy)
2612.80
Septum Abalation
23/01/2023
Gracie (Ivy)
-19.20
Goodwill discount to match estimate
21/01/2023
Gracie (Ivy)
140.50
Hospitalisation & Protexin Pro Kolin
20/01/2023
Gracie (Ivy)
4003.69
Endoscopy – cystoscopy, Add Fluoroscopy, CT combi, Add Contrast CT scan, Septum abalation
10/01/2023
Gracie (Ivy)
192.00
Synulab urine analysis
NDSR Disputed
4500.00
31/12/2022
Gracie (Ivy)
3213.53
Ultrasound & Endoscopy
NDSR Paid
3213.53
21/12/2022
Gracie (Ivy)
723.11
Ultrasound guided cystocentesis
Idexx Urine basic screen
13/12/2022
Gracie (Ivy)
143.92
In house urinalysis
Lab fee urine C&S
Adopter's Vet
867.03