Once upon a time, on the 14th June this year, a lady called Jenna (who fortunately is in rescue herself), contacted us to see if GSRE could help with a pregnant Belgian Malinois, Tala. We were told brother and sister had been rehomed together but when they realised she was pregnant, handed her back to the person who had given them up as they could not afford or handle pups. We of course asked for more information. A group chat was created and Karl was added by Jenna, who she said was the original rescuer for Tala and Atlas, but he was abroad at present. Below is exactly what we were told by Jenna, who was literally just passing on the information she had been given from the 'original ' rescue.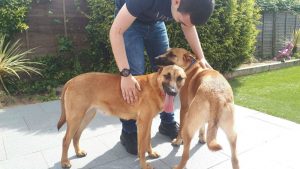 "23/07/18 is her date of birth so just under a year old bless her 😞 . Correct any of this if it's not right @Karl …. She came from Spain with her brother, they were rescued by Karl and he paid for them to stay at an animal shelter and have keyhole neutering. The shelter took the money and didn't neuter and they were transported home to the UK together. She mated with her brother in her new home, Karl wasn't notified, owner wanted to re-home them so Karl arranged a new home in the UK not too far away. Shortly after they arrived they told Karl she was pregnant and they couldn't keep her so they kept her brother Atlas. Karl was due to go to Hong Kong the next day so the original adopter promised to keep her safe until he could arrange another forever home or foster. Karl is in Hong Kong thinking she's safe there until he gets back asap, and I know nothing of any of it.
Then on Sunday night last week I get tagged in a post for a loose dog opposite where I live, we went to catch her and found the adopter through Facebook who had rehomed her to a man at the pub behind Karl's back. This man had lost her/ set her loose. The adopter who rehomed her was mortified this had happened and took her back home. I started digging into where she had come from to try and find a way to get her and her puppies rehomed safely and found out about Karl, so contacted him and he was very upset that he had sold her on before he could get help to her. We've been trying to find her somewhere safe to go since then which is nearly a week now. A few offers that haven't materialised 😞 I visited her at home on Thursday to scan her chip and check her over, she's very nervous but in good health and no milk from her teats just yet.
So she's in the house with this chap, he has agreed to wait for foster but Karl and I are concerned because of how he tried to sell her on last Sunday. We now know that he breeds french bulldogs and has pups at home and it's potentially dangerous to have Tala there with all of the hormones etc going on. The adopter wasn't what he portrayed himself to be and now Tala needs out 😞.
PS forgot to add when he paid for their care he was at his own sanctuary in morocco.
So she came here at 4 months old and has been in the same home ever since with the chap who is now breeding Frenchies. It's an enormous house with acres of garden but still not safe for her."
At this stage we made it clear that if she came into us she would be signed over to GSRE and no other rescue would have a claim on her or the pups and suggested we moved quickly as she was due to birth within the week to 10 days.  Finally, Karl, the 'original' rescuer, joined the chat and gave us this information.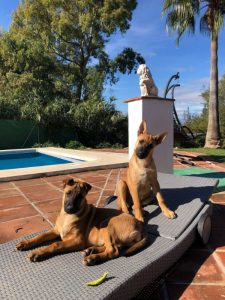 "Hi there all  …. sorry no online again … dodgy reception here. I can sign her over to Lizzy …. all i wish is that she is in a foster home and not a shelter but she does have to get away from her current situation sooner rather than later. Ronnie has lied and i do not trust him. I rescued 6 of them at 3 weeks old with both parents so very close to Tala and Atlas in particular. They are both very close to me.  I arrive back in UK on Thursday pm but would sooner she be re-rescued early. I can assure you that signing her to you is fine. Please Google me Karl ***** for reference of credibility. I always keep my adopted dogs passports until i am positive that the owners deserve them and i still have Atlas and Talas' which i can give you on my return."
Transport help was offered by Jenna, however as Tala was nervous I felt it better I collected her and bought her straight back despite it being a 4 hour round trip. I was given the contact details of where Tala was and managed to get a call back from the guy Saturday morning who advised me he was out at a family do that evening but assured me he would be around all day Sunday. However, not too early please. I suggested 12ish which he confirmed would be fine. On arrival there was nobody home, well apart from the noise of at least 3 dogs, one of whom I could see in the front room, a bull breed with cropped ears, an empty room that looked like someone was just moving in or out. Numerous texts, numerous calls and finally the guy arrived home nearly an hour later, apologising as he had gone for breakfast.
Him and his partner apologised for the state of the house but they were renting and leaving at the end of the month. I met both the bull breeds (not Frenchies as everyone was led to believe) and the one pup, both lovely girls, made friends with Tala, who understandably was very nervous, and left with Tala and some tins of Chappie. He wanted to feed her before we left as she hadn't been fed yet that day but I pointed out it was not a good idea as she had a long journey and would feed her when we got home. In fairness, the 3 dogs were in good condition and the bullies were both very friendly and just wanted cuddles.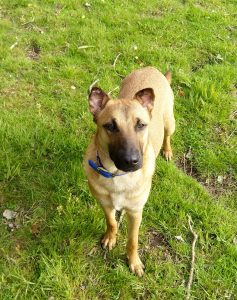 Tala came home and met my gang, and instantly fitted in and for the next 10 days she was part of the pack and enjoying life.
We had received some photos of Tala and Atlas, and it was clear they were not pure Mali's. I asked what they were crossed with and got sent the photo of mum and dad. Mum the Mali, and Dad the Sharpei cross Lab.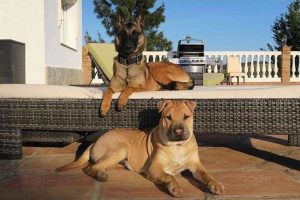 We knew not everything was ringing true as I don't think there is any vet that would carry out keyhole neutering surgery before 16 weeks of age which was when they arrived in the UK with Karl. Also, if Karl was in rescue, why was Tala's microchip not registered here in the UK? And if her chip was not, her brother's wouldn't be either, and thoughts of is he safe, and what happens if he gets loose as nobody will be able to track him back and where could he end up if things went wrong, became another concern.  I pointed this out to Karl who assured me he would get the new owners to register Atlas' chip, and I pointed out if he was a rescue he should be doing it so the microchip could be in effect dual registered. Karl said they were registered in Spain, which I pointed out was absolutely useless in the UK!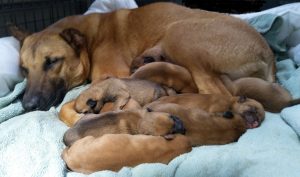 On the 25th June, Tala gave birth to 9 healthy pups, 4 weeks before her 1st birthday, 4 boys and 5 girls. There really were no signs of labour bless her. The first I knew she started shaking with fear and was trying to sit on her bum to stop whatever was coming out from coming. I think she thought she was messing herself which she knew was wrong inside.  Down on my hands and knees, I assured her everything was going to be OK and out came the first little boy. Tala immediately started licking at the sac but did not realise she had to break it, so I pulled it open and her face was one of surprise, like, gosh, he's in there is he? She managed to tear the placenta off and I guided little chap to one of her nipples. Every time he squeaked, Tala would jump up and start pacing around, unsure what was wrong or what to do. Again, on my hands and knees, I assured her he was fine and just go with the flow. 45 minutes later, number 2 pup arrived and within 5 hours all 9 were safely delivered. Thank goodness she had the good grace to start at 3.10 in the afternoon! From number 2 onwards, Tala took control and did it all herself. Tala had not seen a vet during her pregnancy so we had no idea how many pups there could be, plus of course we were concerned as she had mated with her brother, but all 9 pups came out physically perfect.
I reminded Karl to send me Tala's passport and vaccination card which I received when they were 3 weeks old, and so I had a good look through it. Karl's name was nowhere on the passport, but instead a rescue in Malaga, Spain. Through the wonder of Facebook, I located the rescue and found a post about Tala and Atlas.
"Who remembers the 5 pups my husband and I took in when they were abandoned at 3 weeks old last July? 1 passed away from Parvo sadly, but 2 were homed in spain and Gibraltar and two went to the UK. Pickle helped me bring them up – couldn't have done it without her – Tala and Atlas left and off they went.  And look at them now!!!! So so happy as are we to see them so happy. They're very protective and content. And oh my gosh it makes all the difficult times worthwhile. To save a life is just incredible. And finally we fostered and homed instead of keeping hahaha. ❤️❤️❤️Foster a dog. Save a life – just ask us how 🙂"
This pretty much confirmed Karl had been very economical with the truth with us. I messaged the Spanish rescue and very quickly had a response from a lovely lady called Inez, who said the pups had been with her and that Tala and Atlas were now in the UK and where was I, as I had said I now had Tala. I explained what had happened and what we had been told by Karl, and the rescue was flabbergasted and furious all at the same time. Karl had been someone they had got to know through his sanctuary in Morocco and being a trainer had asked for 2 of the pups for a friend and he would be involved with their training. Karl had adopted them and Karl had signed the neutering contract! Of course, they were relieved Tala and her pups were safe, but like us, concerned where Atlas was and how he was, as now nobody believed a word that Karl was saying. Inez sent me all the information and background on Tala and Atlas, and lots of photos, showing Tala's pups were just like her and her brother as babies. I will never forget Her words, "History is repeating itself. How could this have happened! I trusted Karl."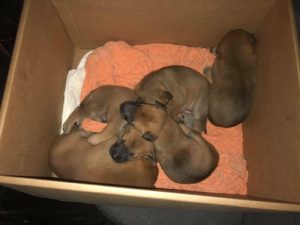 "Hello everyone. I and my husband Pat who I'm going to add on here rescued 5 of the 6 pups last year. That pic of them in the box was the night I drove to the coast to pick them up. Mum and other pup went to another lady. We had them until 2 rehomed locally and 2 went to the Uk. There was no keyhole surgery offered or paid for and on our adoption contract it states the owners will neuter at an appropriate time especially when older. Pups don't get neutered that early certainly not here in Spain! There was an adoption fee of £120 per pup to cover some costs – I paid food and some vet bills from my own pocket. Adopters paid transportation which was done by legal traces and we offer full RBU for the lifetime of the dog. I'm absolutely appalled this has gone on without my knowledge and utterly grateful Tala is in a great place. My concern now is Atlas."
"The whole sad story behind them is a young privileged man on daddy's money wanted a Mali and got a KC registered bitch. Blokes girlfriend wanted a dog so they rescued a Sharpei x Lab puppy from triple A, a well known charity here in Marbella. No neutering and she got pregnant. Had pups. Girlfriend left. He had breakdown and mummy paid for son to return to UK saying dump the dogs in the pound. He tried to rehome but got let down many times.  I got tagged in the post. I've known Karl for several years when he had his rescue in Morocco. He was after a pair of Mali pups for a fantastic home (his words) where they would be trained by him as guard dogs but in the home and well looked after.  I trusted his word. We offered to take 2 pups and long story short we ended up with 5 as we couldn't leave them and they were heading to the pound. The dad went back to Triple A and has since been rehomed. After they hit 16 weeks they travelled. The rest you know. We had those pups from 3 weeks and 2 days old. Raw fed and socialised with our pack of 8 rescues including a full Mali and Mali x gsd who became surrogate mum."
Sadly when confronted with the truth, Karl was more concerned about the fact he had been caught out and ranted on about how the original owner, Ron, had died and he had found Atlas and Tala a new home. They then realised she was pregnant so she went back to Ron's family until Karl had returned from his trip abroad, and during this time Ron's family had sold her on and she had managed to escape the same day, when fortunately for Tala, Jenna had got involved. It transpired I had collected Tala from Ron's son, and the 2 bull breed bitches were also not his. He had been left to carry the can as such. At no time did Karl apologise for his lies or for his behaviour, and as he claims to be a specialist trainer and has set up a sanctuary in Morocco. He should have known better, and in our opinion should never be allowed to carry out any rescue work again, as he most certainly does not do it properly! He failed to register the dogs' microchips in the UK, he failed to get the dogs neutered as he signed for and promised, and then when one 'his' dogs needed rescue back up, had to ask for other rescues to intervene as he was abroad.
Karl did pass on a mobile number for the family who had Atlas after we pointed out whatever had or hadn't happened, the decent thing to do now was to just pass on the information as to where Atlas was. Inez is now in contact with his new family and receiving lots of updates and photos, so thank goodness he is safe and happy and Inez can keep in touch now. The family also know they now really have rescue back up if needed.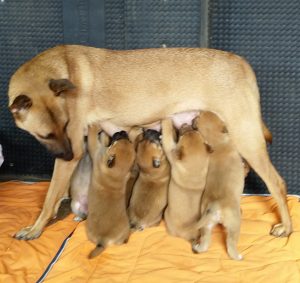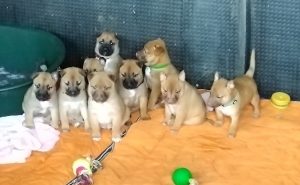 So that is the story of how Tala and 9 pups ended up with GSRE.
The pups are all healthy and happy and getting everything they need, and Tala has been a fantastic mum all the way through. Being a baby herself, she is torn between wanting to go and play with my dogs, or being with the pups, but we are now at that nice stage where the pups are on solids as well as Mum's milk, so she has regained some of her freedom.
These beautiful pups will be available for adoption once they have had their first vaccination and been microchipped which will be 20th August. And of course, Tala will also be looking for her forever home. Special homes needed for these special pups and their Mum so we can give them their Happy Ending!
PLEASE DO NOT CONTACT US UNLESS YOU HAVE ALREADY BEEN HOME CHECKED OR HAVE APPLIED ONLINE TO ADOPT AND ARE AWAITING A HOME CHECK.
Experience of Malinois or similar please.
Meet the Boys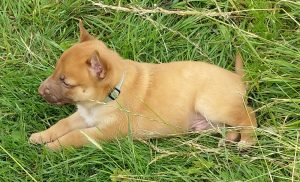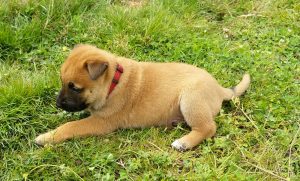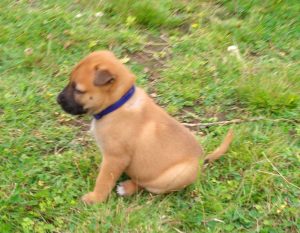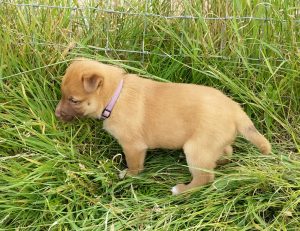 Meet the Girls